I'm proud to serve in the most diverse House of Representatives in history, as well as in the largest Congressional Hispanic Caucus (CHC) in history. CHC membership has grown by 85 percent since 2001 and is now 39 members strong. Combined with six Republican members, there are 45 Latinos in the House. While we are proud of the significant gains in the number of Latino Representatives, they only make up 9 percent of the entire body, compared to 18 percent of the entire population.
Underrepresentation doesn't stop with Congress. Our armed forces have made progress, and the Latino community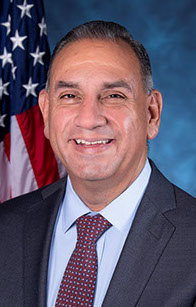 is well represented in our military, but more work needs to be done, particularly in our officer corps. According to the Congressional Research Service, servicemembers of Latino origin account for about 18 percent of enlisted personnel, but only about 8 percent of the officer corps and less then 2 percent of General/Flag officers.
In its latest Strategic Plan for Diversity and Inclusion, the Department of Defense states, "Diversity is a strategic imperative, critical to mission readiness and accomplishment, and a leadership requirement." The diversity of our Armed Forces must be a reflection of the diversity of our nation and it's critical that diversity is also reflected in our leadership ranks. Last month, I convened a meeting with CHC members and the Hispanic Veterans Leadership Alliance to discuss their work to push for more Latino representation among the top brass of the military.
As a Navy veteran, I can speak from personal experience. It's why I believe that preserving and promoting diversity across our military, including enlisted personnel and the officer corps, supports creative problem solving and decision making. More importantly, a diverse military force reflects our values as a democratic society, improving public perception and trust in our armed forces.
The Hispanic Veterans Leadership Alliance emphasized to us that a lot of this stems from a lack of mentorship of Latinos coming up through the ranks. It's why I led a letter with my colleagues encouraging the Chairpersons and Ranking Members of the House and Senate Armed Services Committees to include key diversity and inclusion provisions in the Fiscal Year 2020 National Defense Authorization Act (NDAA). A diverse military helps create a more intelligent, capable, and effective fighting force.
Underrepresentation also exists in Hollywood. While over 20% of movie goers are Latino and are likely to go to the movies 4 times in a year, more than any other demographic, they are vastly underrepresented in Hollywood, both in front of and behind the camera. Only 4.5 percent of all 47,268 speaking or named characters across the last 12 years were Latino. That is coupled with the fact that only 4 percent of directors, 3 percent of producers, and 3 percent of casting directors were Latino. We need to look for ways to build the pipeline to careers in media, which in turn will lead to more representation of our Latino community and culture on the big screen.
It's not only Hollywood that must improve on its diversity, but also the private sector and corporate America at large. Like Congress, the military, and Hollywood, Latinos are also underrepresented in both C-suites and in the boardroom. While there are a few corporations led by Latinos, like United Airlines and its CEO Oscar Munoz, we cannot rest on the success of a few. This is despite research that shows diverse companies outperform those that are non-diverse. Specifically, a McKinsey & Company study shows that ethnically diverse companies are 33 percent more likely to outperform their peers. Yet while communities of color comprise nearly 39 percent of our country, they only comprise 12 percent of corporate executive teams and 4 percent of executives in Fortune 500 companies.
It's clear that supporting companies that not only have a diverse workforce, but also a diverse leadership team is a sound return on investment. We must act to hold companies accountable through reporting and disclosure to ensure they are making adequate efforts to diversify their boards and executive officers. We also must uplift our communities and show them that the path to leadership and responsibility is not only available to them, but an area where they can thrive.
We must continue to acknowledge the important contributions of the Latino community and embrace its diversity and power. Diversity is one of the things that makes the 39th District so unique, and it is why diversity has been a priority during my time in Congress. As I travel throughout the district, I am continuously reminded of the depth and richness communities of color bring to our neighborhoods and the country. For me, calling for greater diversity and inclusion has always been about finding ways to further encourage, develop, and cultivate the next great diverse leaders of our country.
Rep. Gilbert R. Cisneros, Jr. represents California 39th Congressional District.