With so much happening in Congress this year, it's often difficult to stay focused. But throughout her career, Rep. Nanette Diaz-Barragan (D-CA) has sought to advance policies that protect immigrants, as well as to ensure that communities remain protected in face of dire environmental consequences.
The future Congresswoman was born in Harbor City, the youngest of eleven children to immigrant parents from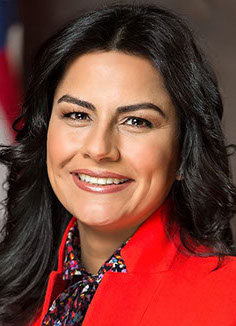 Mexico. She earned a law degree from USC and worked in the Clinton Administration and later the NAACP. Returning home, she was elected to the Hermosa Beach City Council and became the first Latina mayor of the city. But in 2016, she decided to answer the calling to represent the communities she grew up, her neighbors, friends and family in the nation´s capital. Diaz-Barragan won the election and now represents the 44th Congressional District in Southern Los Angeles.
As the Second Vice-Chair of the Congressional Hispanic Caucus (CHC) she works to securing immigrants' human rights. Members of the CHC have also held meetings with CEOs of different pharmaceutical companies to lower prices that have affected Latinos' access to healthcare. Insulin prices have tripled since 2009 and affected the diabetic-prone Latino community, particularly in her district.
Representatives have been holding meetings with the Secretary of Health and Human Services to negotiate skyrocketing prices. "It is unacceptable. We are seeing that Latinos are being impacted by the lack of access to healthcare and affordable drug prices," she said.
Diaz-Barragan stresses the need for oversight and accountability of the administration, particularly on immigration policy. She and other representatives like Reps. Alexandria Ocasio-Cortez (D-NY), Madeleine Dean (D-PA), Ayanna Pressley (D-MA), and others have visited the detention centers where they have witnessed human rights abuses. "So that we can report to the public and the press what we are seeing and witness the human rights violations," she stated.
The Congresswoman has also actively supported legislation to address climate change and facilitate environmental injustice. On September 20, she joined the #ShutdownDC protest in Washington, DC led by 14 environmental and social justice activist groups that called on policymakers to finally adopt strategies to address the climate crisis. She and other colleagues created the United for Climate Task Force dealing with the negative environmental impact on communities of color.
Diaz-Barragan argues that environmental justice is important for Latinos and other underrepresented communities. As a member of the Committee of Energy and Commerce, she wants the US to become a clean economy by 2050, as well as implement a carbon emissions tax. Unfortunately, some poor Latino families live in places where companies are p drilling near their homes, which often causes toxic residues like methane to reach them. "If they can do it in Texas [where drilling can only be performed at a distance of 1,500 from people's houses], we should be able to do that across the country," she affirmed.
Despite this, the Republican-controlled Senate often blocks the passage of valuable progressive legislation. What can be done? According to Diaz-Barragan, legislators have to continue working despite opposition. She is convinced that by reaching across the aisle, Democrats can arrive at compromise and adopt environmental protections.
"The public rallies and protests on these issues help us as well so I want to continue encouraging people to actively engage and continue to sound the drums," she concludes.
Erika Hernandez