Recently, the Hispanic Public Relations Association (HPRA) awarded its highest accolade in Hispanic communications, the HPRA National BRAVO! Awards. Hosted in New York City for the fifth consecutive year, the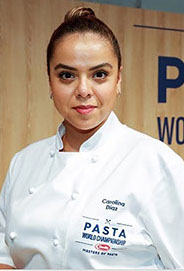 event celebrated the best corporate, agency, and non-profit PR and marketing teams. "Recognizing the work being done within our industry is instrumental in showcasing the impact public relations has in engaging the nearly 60 million Hispanics who live in the US and account for a sizable business opportunity for any organization," said Andy Checo, president of the HPRA National Board.
And the winner was…Barilla! The award in the Food & Beverage category recognized Barilla's commitment to diversity and inclusion, recognizing its Passion for Pasta campaign for reaching Latino consumers in way that engaged their love for food, especially pasta.
It was quite a year for Barilla. The winner of the 2018 Barilla Pasta World Championship held in Milano was Chef Carolina Diaz of Terzo Piano at the Art Institute of Chicago. She was the first woman and Latina to win the title of Best Young Pasta Chef. Her dish was pasta with a roasted red pepper sauce and tuna. "There were these Italian chilies for us to use that I'd never seen but I took a chance and added them to give it a little kick. That's what seemed to impress the judges. They said it gave them a vivid taste of America," she said.
Barilla also partnered with Chef Santiago Gomez, Executive Chef of Cantina La Veinte and Tacology in Miami, to develop Latino Italian Fusion recipes for media outreach. It collaborated with influencers and La Cooquette to create buzz for Barilla's World #CarbonaraDay efforts. The campaign generated 86 placements in U.S. Hispanic media with a total of 29.9M impressions. It also resulted in over 129K social media impressions and 2,485 likes. Congratulations to all!