If you've ever traveled to Mexico, you'll clearly remember the flavors you experienced: fragrant chilies, fresh tortillas, and rich cheeses. At his new restaurant Comedor in downtown Austin, Chef Phillip Speer takes you back. "We tried to create something where you come in and get completely immersed in the experience. From the interactions with the staff, to the food on the table, to the music, to the spirits list, and the actual physical space, I think all things come together to create something that's very unique and relevant to Austin," says Speer.
Speer isn't new to the booming restaurant scene in Austin. It's been home for the McAllen native for over 25 years.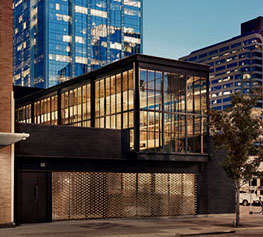 In his culinary trajectory, Speer discovered his passion for food at a young age, and began working in the kitchen at age 16. Speer became a pastry chef, and has been recognized for being the former longtime director of culinary operations at Uchi, where he earned 4 nominations for James Beard "Outstanding Pastry Chef." After Uchi, Speer started the French diner Bonhomie in north Austin. In April of this year, Speer and business partner William Ball unveiled Comedor, an innovative restaurant that celebrates Speer's Latino roots and the soul of Mexican cuisine.
Comedor literally means dining room in Spanish. Housed in a sleek, ultra modern building, it doesn't look or feel like your typical Mexican restaurant, but that's intentional. "The artwork is on the table," says Speer. "There are a lot of techniques, ideas and inspirations that are deeply rooted in the traditions of Mexican cooking from all over Mexico, but so much of what we bring is soul food."
Comedor serves a variety of dishes from different regions of Mexico, including Mexico City and Yucatan. Some of the flavors can't be found anywhere else in the city. That's because of the sourcing of their ingredients. One example is the masa, or dough, the backbone of any Mexican restaurant. All of the corn that's ground daily at Comedor comes from different regions and communities throughout Mexico that aren't grown commercially.
"They grow for their families and sell their surplus. It's a very intimate thing for us to have some of what they've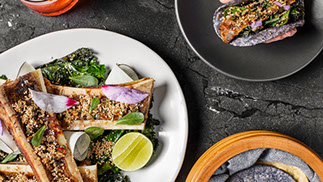 been growing for a hundred years, and to share that with the people in the states that traditionally just know Maseca," says Comedor Executive Chef Gabe Erales. "The flavor is aromatic, it's distinct. It transports you to a new place and it changes a tortilla for you forever."
While all of the corn, chilies and some cheeses come from Mexico, Comedor also includes local ingredients to create traditional Mexican staples like quesadillas, and non-traditional pairings like a bright mole verde with a slowly-cooked glazed octopus. Comedor rewards adventurous palates "We serve chapulines (grass hoppers), hormigas (ants), and huitlacoche (corn smut), things that are rare in the States. For us is something that we pride ourselves in introducing guests to that," says Erales.
Speer's favorite dish is Comedor's signature dessert, the chocolate tamal. "We form the tamal around the chocolate so when you open it up, the runny, molten center runs out. Served with caramelized milk ice cream rolled in candy sesame, it almost has like a Mexican candy crunchiness to it. It's really fun!" says Speer.
Discerning diners agree and Comedor has become one of the hottest new restaurants in Auatin "I hope it's something memorable. I hope it's not just the dishes and the food which are so very important, but the whole experience," says Speer.
Stephanie Sanyour