Latin@ Rising: An Anthology of Latin@ Science Fiction & Fantasy
Edited by Matthew David Goodwin (Wings Press, 2017)
Beyond the onboard inclusiveness of the original Star Trek series or the fantasies of mutant acceptance in the X-Men comics, science fiction is not the most inviting sandbox for people of color to play in. This genre of
anticipatory dreams and hallucinatory dread has never had a problem espousing Übermensch ideals or pushing fascistic eugenics as go-to plot points. Fantasy fiction, with its true blood tendencies and white wizard drama, fares no better.
Cut to Latin@ Rising, a nuanced and necessary anthology that seeks to bring brown voices to the speculative fore. At points mirthful and at turns absolutely morose, the two dozen pieces collected in Latin@ Rising are all tinged with an otherworldly frisson of familiarity that perhaps only socially-conscious speculative work can provide.
Editor Mathew David Goodwin, an Assistant Professor at the University of Puerto Rico, notes the transitory moods and general eclecticism of his anthology by likening its assemblage to songs on a mix tape "in which there is an ebb and flow as you move through the loud and brash, the quiet and thoughtful."
In Kathleen Alcalá's "The Road to Nyer," a character's curiosity about genealogical truths takes the form of time-slip tourism that reveals stark sacrifices linked to ethnic secrecy in old world Catalonia. In "Sin Embargo," Guatemalan-born journalist/novelist Sabrina Vourvoulias offers rare insight into the verbal coding endured by immigrants while highlighting atrocities of Guatemala's so called "dirty wars."
Most of the pieces – from the irony-infested comedy of Richie Naravaez's "Room for Rent" to the avant-garde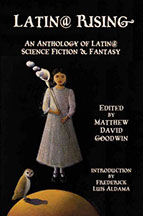 heartbreak of Giannina Braschi's 9/11 mediation "Death of the Businessman" – lack anything close to optimism. But a few works, such as a good natured buddy comedy offered in Ana Castillo's "Cowboy Medium" or the lunatic alternative space race history of visual artist ADAL's "Coconauts in Space," bring a refreshing balance to a book linked by themes of unrest and austerity.
In "Monstro," Pulitzer Prize-winning writer Junot Diaz extends the metaphor of subjugation and unification to monolithic levels with a savvy, scary story in which a flesh-eating disease causes terror to erupt in Haiti. In "Caridad," Alex Hernandez deftly takes the hive mind trope so familiar to SF to new levels while illuminating the sacrifices bright Latinas often make in order to support their families.
There is a healthy dose of kink in this collection as well. Carmen Maria Machado's "Difficult at Parties" posits a fetishistic brand of medicinal porn that screws with reality while healing a marriage. Alejandra Sanchez explores an atavistic end to body shame in "The Drain," a horror story that grapples darkly with the body issues faces by women of color.
Ernest Hogan offers his unique political prescience in "Flying under the Texas Radar with Paco and Los Freetails." This comic gem envisions a Lone Star state of mind wherein a rocker can be rocked off-world for not being Texas enough. As Hogan's hero explains, "the whole Texas secession thing was largely the work of a billionaire/politician/entrepreneur named Bill-Bob Paolozzi who, quasi-legally, in the name of the Second Amendment, acquired some nuclear weapons."
With an enlightening introduction provided by Frederick Luis Aldama, in which the noted expert on Latino Pop culture confesses that movies like Blade Runner and Donnie Darko had a more measurable influence on his academic career than, say, Pride and Prejudice, this collection educates while it entertains.
Roberto Ontiveros