GALA Hispanic Theatre in Washington, D.C. concludes its 41rd main stage season, ¡Con tu propio acento!, with the U.S. premiere in Spanish of the smash hit In The Heights. Conceived by Lin-Manuel Miranda, with a book by Quiara Alegría Hudes, and music and lyrics by Miranda, In The Heights is directed and choreographed by Luis Salgado. This production is based on the Spanish version by Amaury Sánchez.
A Puerto Rican with a soul full of Latin American emotions and sensibilities, Salgado returns to GALA after having choreographed DC-7: The Story of Roberto Clemente in 2013. He was proud to help bring to life the story of a fellow Puerto Rican in that production and grateful for the enthusiastic response by audiences.
Although Salgado has built a career appearing on Broadway with artists who have inspired him, he has always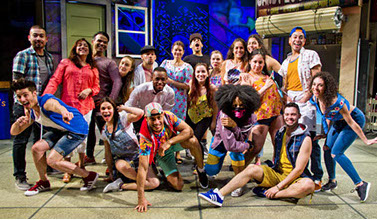 wanted to tell stories in spaces that honor and celebrate his culture and people. "When Hugo Medrano, GALA's Producing Artistic Director and co-founder, called me to direct In The Heights in Spanish, I didn't think twice," says Salgado. "Given its vision, mission, and history, I knew GALA was the preeminent space for this kind of artistic endeavor. Moreover, Lin-Manuel created more opportunities for Latino artists when he granted Amaury Sánchez the right to translate the script for the production in the Dominican Republic."
Salgado has consulted with Miranda about details of the production, but he still feels a great responsibility for the first Spanish language version in the U.S. of this ground-breaking Broadway musical. "The project," said Salgado, "is a big risk, yet a necessary adventure. Since Latinos are now a significant part of the nation's population, it is the perfect time to present because audiences are ready to celebrate Latinos and to explore their sense of belonging."
The cast of GALA's production includes 20 artists who are originally from Puerto Rico, Colombia, Spain, Venezuela, Peru, Switzerland, the Dominican Republic, and the United States. Salgado has worked each cast member to find their character's "truths" and used their diverse cultural backgrounds to reflect today's reality in the U.S.
"The process of working on In the Heights for GALA", concludes Salgado, "has been different than the other productions of the play that I have staged. It reflects a creative process that daily reinvented itself through our work with the book, lyrics, music and the exploration with the artists. Together we created a unique world that we will share with GALA audiences. So come and celebrate who we are and from where we come. We are home."
In the Heights in Spanish is presented April 20 through May 21, Thursdays to Saturdays at 8pm, and Sundays at 2pm. For more information and tickets: 202-234-7174 or www.galatheatre.org.
By Dubraska Vale Lazardy