Luis Muñoz is a name that has popped up in this column over the years, and for very good reasons. The Costa Rica native, a longtime resident of Santa Barbara, is a composer and multi-instrumentalist with a knack for creating consistently fresh and memorable music. Drawing from many influences and his own intellectual inspirations, Muñoz charts new territory with every release, dodging easy stylistic categorization and putting his own stamp of individuality on every track. His latest, The Dead Man (Pelin Music), is truly astounding in the breadth of its sonic moods and the richness of its interwoven strains of melodic, harmonic and rhythm elements.
The session's compelling title was taken from a short story by the Uruguayan writer Horacio Quiroga while the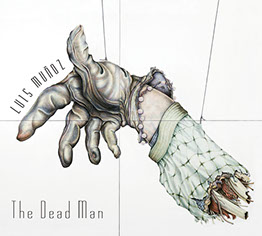 overarching theme was inspired by perspectives on human mortality. A poignant footnote was added two days before the scheduled release of the CD when Muñoz's wife suffered a stroke. The date's seven tracks are symphonic in their emotional range, from the brooding, introspective tone of "Invisible" to the gaiety of the rhythmically-infectious "Tierranegra." A standout presence in the small acoustic ensemble is guitarist Daniel Zimmerman, whose rock-informed drive and pensive, billowing chords do much to shape the identity of "Secrecy" and other tracks. The Dead Man is a triumph of consummate musicianship and the spirit of innovation unleashed. There is much to savor in the latest Muñoz masterwork, which has all the hallmarks of a certified "Album of the Year."
Another release with the earmarks of a classic is Over The Rainbow (Sunnyside) by Spanish-born, New York City-based pianist Chano Domínguez. On this solo recital, the native of Cádiz explores some of the most loved popular standards of the past century, including the title tune from the 1939 motion picture The Wizard of Oz. His genius is in taking overly familiar songs and transforming them into results that tickle the ear. Given that Domínguez was initially involved in his native land's flamenco style, the pianist places a strong emphasis on rhythmic counterpoint in his adaptations. "Drume Negrita," a cherished Cuban children's lullaby, benefits from this free-flowing style. "Gracias a la Vida," by the late Chilean composer Violeta Parra, is revisited in a rhythmically-surging style with a wealth of exquisitely-crafted pianistics. Throughout this bracing set, Domínguez finds the perfect balance between finesse and bravado.
Any recording that has anything to do with the legendary pianist and bandleader Eddie Palmieri promises to be something special. MR. EP (High Note) is a tribute to the master by trumpeter Charlie Sepúlveda and his San Juan, Puerto Rico-based group The Turnaround. The renowned brass man succeeds in reviving Palmieri's sophisticated amalgam of salsa and Latin jazz and blending it with his own brand of improvisation. The maestro himself is on three tracks, including two variations on a self-composed theme, on which Palmieri demonstrates his powerful, classical-influenced keyboard technique. Elsewhere, save a performance of the bolero standard "Bésame Mucho" that features pop vocalist Yarimar Denisse, and an appearance by Puerto Rican hip hop artist Siete Nueve on the tune "Si Tu Sabes," the focus is on Sepúlveda and how he has shaped his originals to project the orchestral energy and stylistic verve associated with Palmieri. On "Bomba Pa' Carmen," he switches gears to showcase a modernized version of the bomba rhythm – a staple of Puerto Rican folklore. Sepúlveda has long been considered one of the most accomplished and versatile instrumentalists of his generation – a reputation that is further bolstered by this exceptional album.
From the neighboring Dominican Republic comes a truly original group whose talent deserves much wider recognition. Keyboardist, composer and arranger Josean Jacobo and his group Tumbao are in the fore of creating a propitious fusion of Dominican folkloric idioms and contemporary instrumental styles. Tapping the rhythmically-spicy world of such little-known forms as gagá, pri-pri, mangulina and pambiche, the band moves far beyond such customary Dominican music touchstones as merengue and bachata to a more organic and stylistically expansive sound. On Balsié (named for a native percussion instrument), their latest self-produced recording, these talented young Dominicanos generate true excitement. On "Cruzando el Rio," the quintet is joined by vocalist Irka Mateo who navigates the rhythmic currents of the congos style, exploring a blend of Afro-Taíno (indigenous Caribbean people) influences. In any language, Josean Jacobo & Tumbao are sensational – a band you'll be hearing a lot more about in coming years.
Mark Holston