For José Ramon Mas, this is shaping up to be a banner year. MasTec, the Miami-based company founded by his father, Jorge Mas Canosa, posted $5.1 billion in revenue, up 22% over the prior year, and is close to joining the ranks of the Fortune 500. 2017 also marks the 10th anniversary of José 's ascent to CEO and the fifth anniversary of his network television debut on the CBS reality show, Undercover Boss.
MasTec is one of the largest and most diversified U.S. infrastructure services providers in the country, with 20,000 employees in more than 400 locations. Though it is not a household name, MasTec touches virtually every facet of life in cities and towns across the country. As José Mas explains: "We lay the cables that connect your phones, and keep the lights on in your community."
Since assuming the top executive position at MasTec in 2007, José has diversified the company into the growing fields of oil and gas pipeline construction, electric transmission line construction, renewable energy, and wireless infrastructure construction while expanding its traditional communications business, which includes both broad-band infrastructure and installation to the home satellite services. During his tenure, MasTec's revenues have more than quadrupled and earnings have grown six fold.
The Mas Tec story began when Cuban immigrant Jorge Mas Canosa was hired by Church&Tower, an underground utility construction firm, to bring discipline, focus and leadership to the company in 1969. Mas Canosa, who had a law degree from Universidad de Oriente, arrived in Miami afer Castro took power and participated in the failed Bay of Pigs invasion in 1961. He later graduated as a Second Lieutenant in the US. Army but then turned to a business career. His work ethic and drive proved the winning ticket for Church&Tower.
Mas Canosa envisioned the company playing a vital role in South Florida's economic boom and its need for reliable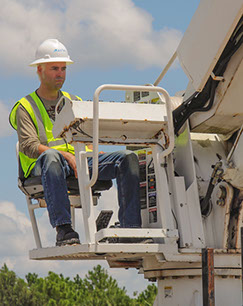 telecommunications infrastructure. After winning sizable contracts to install phone lines throughout greater Miami and Fort Lauderdale, Mas Canosa bought it in 1971, and changed its name to MasTec in 1994. The proud father had a strong sense of family and encouraged his three sons' involvement in Church & Tower. Under his tutelage, they learned the business so well that Mas Canosa handed over the company over to Jorge, the oldest, who was CEO until the company went public, and is presently MasTec's chairman of the board.
Mas Canosa would later turn his considerable energies to the Cuban American National Foundation (CANF), the non-profit organization he founded in 1981 to help liberate the people of Cuba from the tyranny of a totalitarian regime, Today, CANF continues to shape U.S. policy toward Cuba in ways that help promote a democratic and just society on the island. Mas Canosa passed away in 1997.
José Ramon Mas is a graduate of the University of Miami where he obtained a Bachelor of Business Administration and a Master of Business Administration. The Mas family legacy and the lessons he learned along the way have shaped this soft-spoken business executive's leadership style. He grew up in the business and over a span of 20 years worked his way from the field to the boardroom. Yet when José was tapped for the CEO role at MasTec in 2007 at 36 years of age, he feared being undermined by perceptions of nepotism. Even then, Jorge Mas Canosa's example loomed large. "I had to prove I could do it not only because my last name was Mas," his son reflected.
His hard work and an appetite for learning and innovation paid off. But even as the company flourished under José 's watch, he feared that the strong values and principles instilled by his father might suffer under expansion and diversification. The CBS TV show Undercover Boss gave him a chance to spend time incognito on the front lines of MasTec. Disguised as "Manny," a recently laid off high school basketball coach, he observed first hand that commitment and dedication were very much alive in the field.
"I expected to hear gripes about money as the main issue," he said. "But I learned that our employees want to know that what they do every day impacts the business, that their contributions are relevant." Jose's takeaway lessons were put into action in the form of a management program that places a senior executive on the front lines for one day a quarter. The executives' experiences are chronicled in a company newsletter and serve to motivate others throughout the company.
José believes in "paying it forward" and has served on the U.S. Department of Commerce National Advisory Council on Minority Business Enterprises. He was awarded the Ernst & Young National Entrepreneur of the year award in 2011 and 2012, and serves on the board of the U.S. Hispanic Chamber of Commerce. This commitment is also expressed in many community and charitable endeavors. Three years ago, MasTec helped establish the Warriors 4Wireless program, which pairs military veterans with jobs in the telecommunications industry. For more information, visit Warriors4wireless.org.
In 1996, the Mas family established a scholarship to advance the education of talented young men and women, furthering their commitment to promoting the benefits and opportunities that can be garnered through hard work in a free society. More than 200 students to date have obtained a college education thanks to the Mas Family Scholarship, making it the largest scholarship program for students of Cuban descent. Many of them, like Florida Congressman Carlos Curbelo, have gone on to become leaders in their respective communities.
With the expected release of the Fortune 500 rankings this summer, MasTec will rank among the highest Hispanic-owned companies in history. Yet José Mas' modesty speaks volumes when he summoned the biblical passage: "To whom much is given, much is expected," to explain why charitable giving is as much a part of the company's successes as its revenue growth.
By Rosemary Ravinal