To Thomas Saenz, president and general counsel of MALDEF, President Trump's attacks on immigrants are "saber rattling," a lot of tough talk and threats aimed at scaring the undocumented. The Trump administration has issued plenty of executive orders that would sharply alter former President Obama's immigration policies. But it hasn't moved forward on regulations or legislation needed to implement them.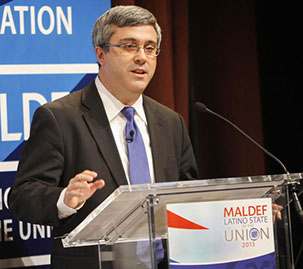 Still, immigrant advocates know the harsh rhetoric and threats coming from the White House are taking their toll, ratcheting up fear in immigrant communities. Saenz and other national immigrant rights organizations including NCLR are lobbying Congress and making sure immigrants know their rights. "We cannot allow this scorched-earth policy to be implemented," said Janet Murguia, president of NCLR at a recent press conference in the U.S. Capitol. "We need to end the assault on our children, end the assault on our families and end the assault on our community."
Showing the human face of Trump's policies at the press conference were Fatima Avelica, 13, and her sister Yuleni, 12, whose father was picked up by ICE agents as he was taking his daughters to school in Los Angeles. The Mexican immigrant had lived in the U.S. for 25 years.There are countless other stories like the Avelicas' since Trump signed two executive orders in January directing the Department of Homeland Security to tighten immigration enforcement.
To counter those moves, advocates are pressing for approval of a number of bills that would block Trump's hard line. One is legislation called the "Access to Counsel Act" that would guarantee access to a lawyer to those held or detained at a port of entry or detention facility. But it's mostly Democrats who back those bills, and they're not likely to win approval in a Congress controlled by the GOP.
Since November 2014, President Obama's policy was to deport "felons, not families." But two memos signed by DHS Chief John Kelly in February change that. They say immigrants who are in this country for two years or less are now subject to expedited removal, which means deportation without any hearings. The new directives also say federal agents can deport people in the country illegally who were convicted of any crime, no matter how minor. In fact, agents could prioritize for deportation people who have simply been charged.
Saenz foresees "spending a lot of time in court" on cases in federal courts when regulations and laws to implement Trump's policies are put in place. That policy changes aren't official yet has not stopped ICE agents from apprehending undocumented immigrants who would have been safe from deportation earlier.To Saenz, federal immigration agents, who have not received any new guidance as to do their jobs, are in a "testing phase" to see how far they can go."They are trying to see what they can get away with," he said.
That may have been the case with 22-year-old Daniela Vargas, whose family moved to the U.S. from Argentina more than 15 years ago. Vargas had protection from deportation under DACA. Vargas' father, a house-painter, was arrested in the driveway of his home in Mississippi as he left for work along with Vargas and her older brother. Vargas was released when local news reporters arrived on the scene. But after holding a press conference to protest her family's detention, ICE agents arrested her again. Her attorney, who secured Vargas' release, called it retaliation.
Saenz believes DACA recipients are safe from deportation, at least for now. He cited the bipartisan support for the Bridge Act, legislation that would make law the Obama policy of granting temporary legal status to the children whose undocumented parents brought them to the United States. "I think [Trump] feels some pressure to do something to protect them," he said.
Still, the rhetoric from the White House against immigrants is escalating. Attorney General Jeff Sessions recently held a press conference at the White House to condemn "sanctuary" states and cities, threatening to cut off federal policing funds."Such policies cannot continue," Sessions said. "They make our nation less safe by putting dangerous criminals back on our streets."
The problem is that the Trump administration has not defined what a "sanctuary" is – the hundreds of immigrant-friendly cities and towns vary widely in their policies – and most don't violate federal immigration law because there is no statute that compels local law enforcement to cooperate with ICE. Session's press conference was widely seen as an attempt to deflect attention from its stunning failure to repeal and replace Obamacare.
But DHS is compiling lists of jurisdictions they say aren't cooperating with federal immigration authorities, mainly by refusing to comply with ICE "detainer" requests to keep an inmate locked up so they can be picked up for deportation.Travis County, which includes Austin, was the top detainer request ignorer, and an ICE crackdown there led to 51 arrests, including 28 with no criminal background.
According to Clarissa Martinez de Castro, NCLR deputy vice president, many politicians are hoping to gain support from attacking immigrants. "They are trying to feed some communities to the lions to try to keep Americans from holding them accountable," she said, but added, "a lot of Americans are denouncing that kind of policy."
Ana Radelat