If knowledge is power, then the American Heart Association (AHA) is working hard to empower Latinos. The organization offers a wealth of bilingual information regarding Latino health risks, and tips for staying healthy, in its website Heart.org.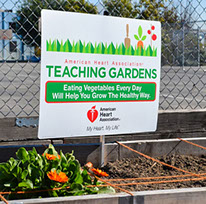 But encouraging Latinos to live a heart healthy lifestyle isn't just a good idea. It's the centerpiece of the AHA's outreach effort to Latinos. "We are working with Latino community leaders, organizations and advocates across the country to remove barriers to healthy living and making the healthy choice the easy choice," says Pamela Garmon Johnson, Vice President of Multicultural Markets. "Our website includes resources on many health topics in English and Spanish to assist communities in creating healthy environments."
For example, there's an article in Health.org about the need for more Latino cardiologists. It reveals that there were 1,044 Latino cardiologists who trained in the United States in 2013, a mere 3.2 percent of the total number of U.S.-trained cardiologists: "Research shows minority patients, when given a choice, often seek out doctors from their same race or heritage." In other words, if Latino patients had access to more Latino cardiologists, perhaps more would be proactive about preventing heart disease.
For years, Latinos were told they were at greater risk of heart disease because they were also at greater risk of developing diabetes and hypertension. While this is true, Latinos actually have a longer lifespan than other groups, according to a study by the Centers for Disease Control—80.6 years compared to 78.1 years for non-Hispanic whites—which some research attributes to a natural propensity for healthy diets that include fruits and vegetables. However, because of the threat of diabetes and high blood pressure and cholesterol levels, Latinos have a greater risk of developing cardiovascular disease.
According to the AHA, the main challenge to Latino outreach has been language and finding the right dialect for each Latino community. In fact, language makes up one of five areas identified as creating challenges to Latino good health. Not only does language present a problem with outreach but also it creates a barrier between patients and their doctors, hence the need for more Latinos in the medical profession, including cardiologists.
The other four issues identified by the AHA include: Family and cultural values where families tend to try to find help amongst each other before seeking medical attention; a lack of preventive care since Latinos don't always appreciate the value of regular doctor visits; the fear among the undocumented of deportation, preventing them from seeking medical help; and attitudes and perspectives towards health may be influenced by substandard treatment received by a family member, creating a lack of confidence in the health care system.
Websites can share valuable information, but a real change in attitude may require a more hands-on approach. With this in mind, the AHA launched Teaching Gardens, an innovative grassroots program that exposes children to the concepts of health and nutrition by growing gardens in their own schools and communities.
Obesity remains a major factor that increases the risk of heart disease, particularly from conditions like diabetes.
While Latinos may arrive in the U.S. with healthy eating habits from their native countries, they quickly adopt American customs including diets that rely on fast and processed food high in fats, carbohydrates, and sugar. The result has put Latinos at high risk of becoming obese, another risk factor for developing heart disease.
Teaching Gardens began as an effort to reverse this trend nationwide. Aimed at first graders through fifth, it teaches children how to plant seeds, nurture growing plants, harvest produce and ultimately understand the value of good eating habits. The process also promotes an understanding of math, science and other subjects through garden-themed lessons that teach nutrition, but always with an emphasis on fun.
"One of the goals of the Teaching Gardens program is to encourage young people to be proactive about making healthy choices," says Kelly Meyer, AHA volunteer and Teaching Gardens founder. "By providing a fun and engaging hands on learning experience, the program helps to remove barriers associated with eating nutritious foods. Teaching Gardens increases access to nutritious food for students across the country from a variety of backgrounds. It is our hope that the program will make a lasting impact in their lives by supporting positive health and fitness habits."
Once a school commits to the program, a school-wide planting day is scheduled. The AHA provides the materials for planting, including garden beds, organic soil, seedlings and plants, cooking demonstrations, and other activities. Schools receive an AHA Teaching Garden Tool Kit with useful information including a school garden manual, lesson plans, school activation ideas, and parent and community resources. Through the Teaching Gardens initiative, the AHA is reaching 409 schools around the country with an average of 300 children per school, equaling approximately 122,700 children served to date.
"Access to fruits and vegetables is limited for many Hispanics and Latinos in the U.S. living in areas that are considered Food Deserts," says Alex Almazan, an AHA national volunteer spokesperson in Miami. "The Teaching Gardens initiative is a way to help to solve this problem. Not only does it teach the kids how to grow and take care of the foods they plant, but it makes it fun for them to learn about proper nutrition and to grow up enjoying healthy foods that they may not have been exposed to otherwise. Garden-themed lessons teach nutrition, math, science and other subjects all while spending time outdoors."
Heart disease may be the number one killer of all Americans, but it is also the most avoidable. All it takes is a few lifestyle changes, and the AHA invites Latinos to read all about it.
By Valerie Menard