In May, the Washington-based Hispanic Association on Corporate Responsibility (HACR) will hold its annual conference and symposium in the city of Detroit.
"This will be the first time ever that we've been to Detroit as an organization and we're very excited about that. Everyone says Detroit is coming back, but I think Detroit is already back," says Cid Wilson, HACR President and CEO. "You look at what's happening in downtown Detroit. It's active. You see businesses blooming, you see the benefits of the auto industry in Detroit and around the country."
"We are also thrilled to have General Motors CEO Mary Barra as a keynote speaker on the first day of the symposium,"
says Wilson.
Barra, who rose through the ranks at GM starting as a college student, is the first female CEO of a major global automotive company. HACR's mission focuses on Hispanic inclusion in corporate America, and GM has consistently received high praise and good marks for its concerted efforts at expanding the role of Latinos in the company. A recent HACR report gives GM high ratings in the areas of employment, procurement, philanthropy, and governance; and GM is the only automotive company to support the Employment Non-Discrimination Act (ENDA). Barra says GM is serious about its commitment to diversity (see interview, below).
"I want to get to where we represent the demographics of the country," Barra said at a roundtable earlier this year with LATINO Magazine and other media. People want to see "someone like them," Barra said, adding, "The goal is to get to where we're not talking about, that it's natural and a given. I'm here today because 20 years ago people invested in me when I was a young engineer."
"Diversity is a very important part of our company. It is key," said GM Chief Diversity Officer Ken Barrett. "It makes us a more successful company. Why would Hispanics want to come and work here at GM? Because we welcome diversity, innovation, we want you to have a successful career here," adding that GM has 12 employee resource groups, including one for Latinos called the Hispanic Initiative Team, which offers mentoring and other programs.
HACR Annual Symposium: The Power of Hispanic Inclusion™, also celebrates a significant milestone: its 25th anniversary. "We're going to be talking about all aspects of Hispanic inclusion in the areas of employment, procurement, philanthropy, and governance, which are HACR's four pillars," says Wilson.
Despite the fact that Latinos are the fastest-growing group in the country, accounting for 17 percent of the U.S. total population with a purchasing power of $1.3 trillion, HACR research has found that Hispanics remain underrepresented in the corridors of power in corporate America.
"There's no short-term solution to increasing Hispanics on corporate boards. It requires a deep commitment from companies to do the work and accelerate progress," says Wilson, adding that advocacy will certainly be a part of the Detroit symposium.
A proud Dominican American raised in Bergen County, N.J., Wilson graduated from The Ohio State University with a degree in economics. In 1994, he began his career in Wall Street in the mailroom, and was recognized by Forbes as the "#1 Specialty Retail Analyst" in 2006. In 2009, President Obama appointed him to the National Museum of the American Latino Study Commission that proposed construction of a new Smithsonian Museum on the National Mall in Washington, D.C. Wilson was named President and CEO of HACR in 2014.
HACR's Chairman is Ignacio Salazar, who also serves as president and CEO of SER-Jobs for Progress National, Inc., a national network of employment and training providers. The network is currently comprised of local SER affiliates in 17 States, Puerto Rico, and the District of Columbia, providing services to more than one million persons annually.
HACR was founded in 1986 and represents 14 national Hispanic organizations in the U.S. and Puerto Rico with a mission to advance the inclusion of Hispanics in Corporate America at a level commensurate with their economic contributions. There are five main programs: The HACR Corporate Directors Summit™, which brings together those serving on Fortune 500 corporate boards to discuss the ins and outs of serving in corporate boardrooms; the HACR Corporate Executives Forum™, which serves as a sounding board for executives at major corporations; the HACR Corporate Achievers Summit™, a networking and training program; the HACR Young Hispanic Corporate Achievers™, which focuses on up-and-coming Latinos in corporate America; the HACR Leadership Pipeline Program, a forum for Hispanic employee resource group leaders to develop their leadership and managerial skills; and the HACR Research Institute, which publishes annual studies on the state of the Hispanic community and corporate best practices in Employment, Procurement, Philanthropy, and Governance.
All those aspects of HACR will be present at the conference in Detroit, says Wilson: "We're going to have a CEO roundtable, and this is the 11th year we're doing this. We're one of the few organizations that on an annual basis gather CEOs to discuss best practices related to inclusive employment and retention strategies, increasing Hispanic consumer market outreach and brand loyalty, and diversity in the corporate boardroom. In addition, we are having a C-suite roundtable, a chief diversity officer panel, and a forum where we'll have HACR board of directors talk about what the current environment in the new Trump administration means for Hispanic inclusion in corporate America." Other sessions include a look at employee resource groups as a tool for career advancement, and there's a discussion of Latinas in corporate America.
"As the primary GM liaison for the HACR organization, it is a true pleasure to work with Cid and his team and their mission of Hispanic Inclusion in Corporate America. I am proud of  GM's achievements to date, and truly appreciate the support received from our Senior Leadership as we continuously strive to do better," says Alma Crossley, GM Director of Diversity Initiatives. "HACR's programs (CEF, CAS, YHCA), via leadership development, networking, and sharing best practices,  have made and continue to make a tremendous impact on our Hispanic leaders as they conduct business and continue to climb the corporate ladder."
Cid Wilson concludes: "We're looking forward to a great conference that not only illuminates the great comeback of Detroit but also talks about how corporate America is so interdependent; how the automakers fuel technology, how technology fuels the STEM industries, how the STEM industries require a certain level of talent as we start hiring. How all these moving pieces come together and have a common goal and a common mission, to advance Hispanic inclusion in corporate America."
By Patricia Guadalupe
Mary T. Barra, the CEO and Chairman of GM, spoke with LATINO Magazine about her commitment to diversity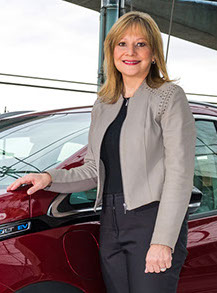 and the company's support for Latino organizations across the country. GM has been a longstanding partner of HACR and will sponsor its annual symposium in Detroit this year.
Why is support for the Latino community important to GM?
Our overall goal is to make General Motors a company that people aspire to work for, because we are diverse, inclusive and offer challenging work and excellent opportunities. Furthermore, we want our employees, dealers and suppliers to know that if they truly want to enhance peoples' lives, they can make a real difference at GM. To that end, we recognize that Latinos are crucial to both the future of our company and the auto industry – as employees, suppliers, dealers and certainly as customers. Along with being the right and smart thing to do, our support for the Latino community is backed up by compelling demographic data. As the largest and one of the youngest, fastest growing minority groups in the country today (57 million, 18%, PEW Research Center 2016), it is estimated that Latinos will comprise 24 percent of the U.S. population by 2040 and will be the majority group in several states (U.S. Census Bureau, 2014). As a leading American automaker designing, building and selling the iconic Chevrolet, Cadillac, Buick and GMC brands, GM focuses on creating a culture of inclusion and mirroring our customer base. That also means that we strive to earn Latinos and their families as customers for life by translating breakthrough technologies into vehicles and experiences that Latinos love.
Please describe GM's support for HACR over the years.
GM and the GM Foundation have been longstanding partners of HACR and have contributed more than a half million dollars to the organization since 1995. GM believes in HACR's mission to advance the inclusion of Latinos in corporate America at a level commensurate with Hispanic economic contributions. Since 2011, GM has participated in the annual HACR survey that focuses on the four areas of corporate responsibility and community reciprocity: employment, procurement, philanthropy, and governance. This survey is a vital tool in assessing our progress and benchmarking against others to ensure we are on track in advancing Hispanics in corporate America. I'm proud to say that in 2016, GM had the highest score among automotive manufacturers who took the survey. I had the pleasure of meeting with HACR leaders Ignacio Salazar and Cid Wilson when their board visited our GM headquarters in Detroit in November of 2015. I was also honored when HACR asked me to participate in a fireside chat with Cid at their annual symposium, which will be held in Detroit this May. GM is a proud sponsor of the symposium, where many of our current Hispanic leaders will also attend and participate.
What other Latino community organizations does GM support?
GM supports over 30 Hispanic organizations across the country, including the 16 organizations that make up the board of HACR. Here in Detroit and throughout the southeast Michigan area, we also support a number of Hispanic organizations, including the Detroit Hispanic Development Corporation (DHDC), the Michigan Hispanic Chamber of Commerce (MHCC) and the Detroit chapter of Latin American Social Economic Development (La SED), among others. Along with financial donations, GM's support includes our employees volunteering as mentors, tutors, conducting workshops, cleaning up neighborhoods and even building homes. We also recently donated a commercial van to help transfer Detroit-area students and senior citizens to and from a community center.
How is diversity defined at GM, and how does it contribute to GM's bottom line?
At a time when our industry, technology and customer preferences are changing rapidly, diversity and inclusion are more vital to GM's success than ever before. For all of us at GM, it starts with putting the customer at the center of everything we do, each and every day. To win in this dynamic, competitive environment, GM needs a talented, diverse workforce that shares a passion for solving the world's mobility challenges, and employees who want to make the world a better place.Thanks to the efforts of our Hispanic Initiative Team and other employee resource groups at GM, we're creating a culture, an energy and an attitude that says anything is possible, especially when we ensure that every employee has a chance to contribute to his or her full potential.GM is committed to diversity and to helping Latinos succeed by also supporting entrepreneurship opportunities. At the end of last year, GM had 248 minority owned dealerships in the United States, and nearly half of them were Hispanic-owned, making it our largest dealer diversity group. We also spent more than $280 million with Hispanic suppliers in 2016. In fact, Frank Venegas, GM's largest Hispanic supplier, Chairman and CEO of Ideal Group and GM's largest Hispanic supplier, was awarded the MBE (Minority Business Enterprises) Luminary Award in 2016. The Ideal Group has also been the recipient of GM's Supplier of the Year (SOY) award 13 times!
Describe the role of Latino Employee Resource Groups at GM.
Like the 12 other employee resource groups we have at GM, the Hispanic Initiative Team (HIT) plays a key role in helping us identify, support, grow and retain diverse talent and also learn how to better serve our customers and their preferences. GM HIT has more than 1,000 members in 11 chapters across the country. Each of our employee resource groups are led by an executive champion from my leadership team. We have also had each of the employee resource groups, including HIT, present at my monthly leadership group meetings. I want the importance of diversity to be top of mind for all of our leaders. Closely related to HIT, we also have a Hispanic Leadership Network (HLN) at GM that is focused on identifying, mentoring and maximizing the future leaders among our current Hispanic employee base.
As GM transforms itself into a personal mobility company through acquisitions (Cruise Automation) and investments (Lyft), how can Latinos participate in a future that will also include self-driving vehicles?
As I've said many times before, I believe we will see more change in the auto industry in the next five years than in the past 50 years combined. Maintaining GM's position as a global leader in automotive technology, urban mobility and autonomous vehicles will depend upon our ability to recruit and retain a talented pool of diverse candidates with STEM expertise. Today at GM, we have Latino executives leading several key areas of our business, including global connected customer experience; self-driving vehicle technology; our next generation sport utility vehicles; and running one of our largest assembly plants in the United States. To help ensure a robust pipeline of similar talent in the future, we partner with key national organizations like Society of Hispanic Professional Engineers (SHPE) and Great Minds in STEM (GMiS), along with other national organizations like FIRST Robotics to inspire young people to pursue STEM careers.
How does GM promote STEM education for Latinos?
GM is committed to finding and developing the best and brightest talent within the Latino community. Since 2011, GM has provided more than $5.7 million in college scholarships to over 400 Hispanic students across the country pursuing STEM careers. In 2015, the GM Foundation also donated $1 million to leading Hispanic organizations, many using the grants for STEM efforts for Latinos across the U.S. Since then and continuing this year, we will contribute an additional quarter million dollars to organizations that promote STEM among Latino youth. For example, our GM HIT is teaming up with the Hispanic Heritage Foundation to teach coding as a second language to high school students in key markets across the country. Here at home, we are working with the Detroit Hispanic Development Corporation and FIRST Robotics to help five local high school teams to design and build robots to compete in regional and national competitions. To remain a leader in the global auto industry and to give back to our communities across the country, GM absolutely understands and embraces the importance of inspiring young people to pursue STEM careers.
How does GM recruit Latino employees, from entry level to the C-suite?
As I mentioned before, GM partners in our recruiting efforts with key organizations like the Society of Hispanic Professional Engineers (SHPE), Great Minds in STEM (GMiS) and National Society of Hispanic MBAs (NSHMBA).In 2016, a GM employee recruiting team of 22 volunteers attended the SHPE and GMiS conferences, respectively, where we engaged with over 980 students and extended 46 job offers. This resulted in an increase of almost 60 percent in terms of Hispanic hires over last year. With respect to executive level candidates, our HIT and HLN groups are instrumental in identifying, growing and keeping Hispanic talent at our company, along with partnering with key outside organizations.
You've broken many glass ceilings as the CEO of GM. What advice would you give a young Latina wishing to do the same and succeed in corporate America?
My advice for any young person is the same advice I received from my Mom and Dad when I was growing up: do what you love and work hard.Young people should also know and believe that they can be and do anything they want. And no matter what you choose to do in life, always pursue it with passion, hard work and the highest integrity. I feel very fortunate to have had parents who loved and encouraged me, and mentors at work who provided guidance, counsel and candid feedback – along with challenging assignments, which leads to my last bit of advice. I encourage young people to take on those challenging assignments that maybe make you a little nervous because they're outside your comfort zone. My experience has been that these are the jobs where you learn the most and really help your career.