Since the late 1940s, an unflattering caricature dubbed "The Ugly American" has been used as shorthand for obnoxious, demanding, and culturally unaware travelers who arrive in distant lands only to be further annoyed because everyone doesn't speak perfect English. Thanks to his ongoing feud with Mexico, his quest to build a wall on the U.S.-Mexico border, and history of disparaging remarks about Latinos, Donald J. Trump is viewed by many Latin Americans as an updated embodiment of this negative stereotype.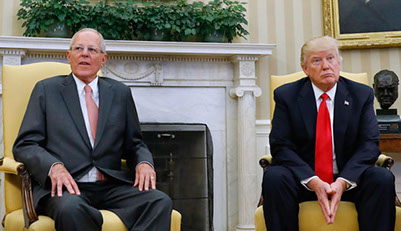 At the same time, observers throughout the region are anxiously awaiting clues of the new president's Latin American policy, or even if there will be a coherent one. Will there be active and positive engagement with governments throughout the Americas on trade, immigration, drugs and other issues, or will the Trump administration's stance be some variant of the benign neglect other administrations have followed? Other than receiving the president of Peru at the White House and making a few perfunctory phone calls to regional leaders, Trump has demonstrated scant interest in the region.
 "The best we can hope for," commented former Panamanian vice president Samuel Lewis Navarro during a recent visit to his country, "is that, like Ronald Reagan, he will turn out to better than expected."
This small nation, like virtually all in the region, has suffered through chaotic and often repressive governments. Now, Panama's immediate past president, known as "El Loco," lives in the U.S. and is fighting extradition to his homeland on corruption charges. Monitoring the daily political drama coming out of Washington, D.C., therefore, often has a déjà vu quality.
 To better understand the perceptions of Latin Americans regarding the new U.S. president and his administration, LATINO interviewed noted journalists in Ecuador, Argentina and Panama. Ivonne Guzmán, editor of the cultural section for El Comercio, a daily newspaper in Quito, characterized the view of many Ecuadorians as a mixture of "fear and awe." Although in 1996 her country had elected an erratic leader he was impeached and kicked out of office, many Ecuadorians were unprepared for the election of Trump. "It was incomprehensible, at least in my circle, that he won the presidency," Guzmán admits.
 Throughout the region, migration has become a front burner issue. Citizens of nations in political and economic crisis have flooded into countries near and far. Venezuelan refugees are everywhere and Argentina is home to an estimated 1.5 million undocumented immigrants, accounting for a higher percentage that the U.S. of such residents. For the Ecuadorian editor, the Trump administration's posture toward undocumented Latinos in the U.S. is of concern. "Many of our citizens are living there illegally," she comments. "Trump's policies will affect Latin Americans who might have to return, and the economic situation here is not great; we are amid our own economic crisis."
 A Panamanian journalist who spoke to LATINO on the condition of anonymity says that the immigration issue has several facets in this Central American nation. "Many Panamanians live in the U.S.," she notes, "and the fact that speaking Spanish, or even hearing an accent, is a reason to feel marked, is worrisome. Also, the entry to the country will be more complicated than it is nowadays. And, currently many migrants are stranded in Panama because they cannot reach the U.S. Sadly, some here that sympathize with Trump's position without seeing it as a much more complex problem."
The view from Buenos Aires is similar. Inés Capdevila, an editor at La Nación, Argentina's most influential and widely read conservative daily newspaper, delivers a blunt assessment of the new U.S. president. "I believe Argentines have the same perception as the rest of the world: public opinion perceives him as an erratic showman and we are baffled by the fact that the U.S. could elect such a president," she asserts. "The government, the business sector and economists are mostly cautious about what to expect from Trump and are quite wary about his protectionist intent."
In Ecuador, a new president will be elected in an April 2 runoff between the two top vote recipients in a recent contest between seven candidates. The new leader will replace leftist Rafael Correa, a disciple of Venezuela's late authoritarian president, Hugo Chávez. No matter who wins, El Comercio's Guzmán believes there's a chance to improve relations with the U.S. which has soured under Correa. "The U.S. is our first commercial partner," she points out, "and both candidates have said that they will protect our relationships with the U.S. We cannot go the other way."
"Trump has shown some, though flimsy, interest in Argentina mainly because he has had some business ties with our president," La Nación's Capdevila adds. And although her country has become a mecca for immigrants from nearby countries, Africa, the Middle East and the Pacific Rim, the editor believes that Trump's emphasis on deportations don't have a sympathetic audience in Argentina. "Although from time-to-time there have been bouts of xenophobia here," she notes, "we have been an open-borders country historically."
"The world has changed and I think we all know that migration is a reality," Guzmán states. "We have to learn to live with it."    
Mark Holston