Family, giving, joy, and celebration are hallmarks of the holiday season. While the holiday spirit is on full display during November and December, we are proud to keep it alive year-round at Herbalife Nutrition through a culture of volunteerism, giving back, and community building. While we have our philanthropic arm Herbalife Family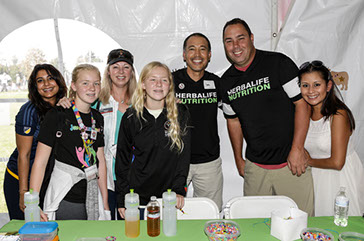 Foundation— which supports charitable organizations to ensure that children all over the world have access to healthy nutrition— our company, our employees, and our distributors are characterized by a shared commitment to give back to the communities we live, work, and play in as we work to promote fitness, nutrition, and economic opportunity. From celebrating at-risk mothers to building homes for low-income families, and from fighting hunger to donating blood, Herbalife Nutrition employees actively give back, inspiring others to do the same. These are just a few recent examples of the volunteer hours we have invested in communities in our state and beyond.
Supporting Special Olympics athletes, families, and communities around the world. Herbalife Nutrition is proud to support Special Olympics. Last year, we sponsored the 2015 Special Olympics World Summer Games in Los Angeles and used LADC— our largest distribution center in California— to register and credential athletes, coaches and volunteers. Herbalife Nutrition distributors and employees sponsored approximately 10% of the competing athletes. In addition, nearly 300,000 nutrition bars were donated at various competition sites. This year, we've expanded our commitment to Special Olympics through a $1 million dollar sponsorship in support of the organization's fitness programming and education resources. To kick-off the Herbalife Nutrition's volunteerism, distributors and staff, including Southern California Special Olympics board member and Herbalife Nutrition Global Corporate Affairs SVP, Megan Jordan, volunteered at the 2016 Special Olympics Southern California Fall Games.
Lifting up vulnerable mothers. Over the past several years, Herbalife Nutrition has sponsored the Hope Gardens Family Center's annual Mother's Day luncheon. In addition to collecting and donating personal care items and accessories for 80 women and their children, our Worldwide Events and Promotions team coordinated special activities, including professional makeovers and portraits and children's games.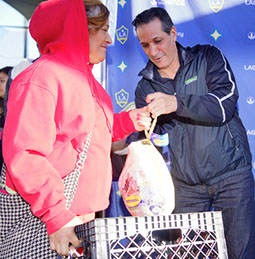 Sharing the gift of Thanksgiving. Last November, Herbalife Nutrition volunteers, including Executive Vice President Rob Levy helped to hand out more than 500 turkeys and groceries through a partnership between Herbalife Family Foundation and the LA Galaxy Foundation partner with A Place Called Home to provide Thanksgiving meals in Los Angeles. The Company will join the LA Galaxy to support the event again this year. A Place Called Home is an LA-based non-profit that provides South Central children and teens between the ages of 8 and 21 with educational programs, counseling, and mentorship.
Constructing homes for deserving families. Also in 2016, more than 30 employees from the Herbalife Nutrition Global Corporate Affairs and Worldwide Marketing teams helped build two homes in partnership with the Habitat for Humanity of Greater Los Angeles (Habitat LA). Under the leadership of the Habitat LA construction team, employees divided into groups to clean, paint and build framing for homes' roofs and walls.
Fighting food insecurity by supporting local food banks. Both the Herbalife Nutrition Worldwide Supply Chain's change management teams and the Global Corporate Affairs team have volunteered at the Los Angeles Regional Food Bank this year, sorting and bagging thousands of pounds of produce and filling hundreds of grocery bags to be distributed to children and the elderly. Thanks to the support and partnerships of organizations and companies like Herbalife, the LA Food Bank is able to feed more than 280,000 people monthly in Los Angeles County. "It was beyond a great day taking a moment out of our lives together to help the ones that need assistance during these times in their lives," said Materials Systems Analyst Dina Nalley.
Helping save lives through blood donations. Since January 2016, Herbalife Nutrition has hosted eight blood drives in association with the American Red Cross, including five employee drives and three member drives across the country.  The blood donations received through our corporate sponsorship will save up to 990 lives.
Promoting healthy nutrition in schools. Herbalife Nutrition Human Resources teams from Torrance, LA Live, and Lake Forest partnered with the Do Good Bus to clean up and plant a school garden at Buford Elementary School in Lennox, CA. Access to fresh, whole foods is especially important in communities like Lennox where fast food restaurants, liquor stores, and low-quality supermarket chains are predominant, and nearly half of its students are considered obese. "We were delighted to learn we'd be doing work that would help the kids of Buford Elementary learn about nutrition, especially since nutrition is what we're all about," said Jean Marie Cacciatore, senior vice president of Human Resources.
Angela Arboleda is Vice President of Government and Community Affairs, Herbalife Nutrition.
After a long election year, I decided to leave Washington and spend the holidays back home in San Diego, California with my family. Everyone from my abuelita, to my tias and tios, to my primos and hermano repeatedly asked me, "How did this happen, what happens now?"
One thing is abundantly clear: Millions of Americans still struggle with the idea of America. In many ways, America is still ahead of its time. And yet, our warm welcome to the world, engraved on the Statue of Liberty, still rings true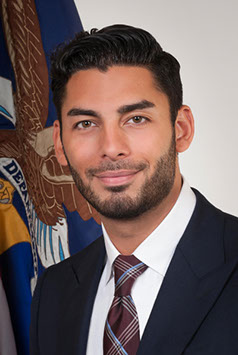 for millions of families today: "Bring me your tired, your poor, your huddled masses yearning to breathe free."
That's why I love this country. It's not a perfect place, but it's where the ultimate comeback stories are written.
It's surreal to spend your early years under siege by American-made helicopters and F-16s that leveled entire neighboring buildings on your block. And then years later, end up working for the United States government, being called "sir" by Secret Service agents every morning, and being protected as a man by the same things that could've killed you as a boy. This is nothing short of an American miracle.
I worry about those who no longer believe in the American dream or comebacks. Too many people feel like their hopes, dreams and even their lives don't matter. They no longer believe in the alchemy of America, a place where you can turn your pain into purpose.
My father, Yasser Najjar, saw his parents gunned down when he was 11 years old. Orphaned and outlawed, my father moved throughout the Arab world searching for a new home. On his 18th birthday, he had to decide: continue seeking refuge across the Middle East, or move westward to America. He chose America, and America chose him.
My mother, Abigail Campa, the Mexican Catholic daughter of an orphaned migrant farmworker, showed me through a divorce, a broken heart, being broke, through working as a receptionist for a family doctor, and eventually working in real estate, that you can dust yourself off and start again, that there's dignity in a hard day's work, and that your work doesn't define you, it reveals you.
She repeatedly inconvenienced her life for mine. Whether it was choosing to live in a war zone just so her boys can have a father, or interrupting work to drive me home from school, to soccer games, to church and band practice. I'll never forget watching her weep when I was 9 years old. My abuelita flew to Tel Aviv to visit, only to be turned away. A brutal war in our area broke out the hour she landed. My mom's source of hope was so close, yet so far.
I vowed to never let her see me cry. I didn't cry when we said goodbye to our San Diego family in 1998 Or when I watched a Palestinian boy my age get shot and killed while hiding behind a barrel. I didn't cry when we had to shelter in place at my Catholic school to hide from the bombing. I didn't cry when a military hummer crashed head on into our car, putting my brother in a coma. I didn't cry when we left baba behind and returned to San Diego in August 2001. I didn't cry when 19 terrorists claimed 3,000 innocent lives. I didn't cry when the Islamic school I attended was vandalized and declared unsafe to study or pray in.
I didn't cry on Election Day after working alongside hundreds of San Diegans to elect a man of color — the son of a Muslim father and single mother — president of the United States. I didn't cry when I left the only two people I've never separated from, my mom and younger brother, to pursue my dreams in Washington, D.C.
It was January 2013, and there I was, gawking at that grand, glorious, mysterious place on 1600 Pennsylvania Avenue, where Lincoln still walks at night. After not being Arab enough in Gaza, Latino enough for the barrio, or American enough in America, after so many shut doors, the door to all others finally opened. On that day, in those hallowed halls, I cried. The pain was given purpose, to live to tell this story.
Many in my community are still shocked that I've been called to serve in this place. It gives them the audacity of hope. I don't know what's going to happen next. All I can do is take things one day at a time and be ready to respond to what's around the corner. We can take time to feel, but then we have to regroup and move forward as one nation. In 61 days, Obama will depart the White House and it will be up to all of us, ordinary citizens, to once again be the ones we've been waiting for.
Let's resist falling into the in the easy traps of either normalizing or demonizing the decision half of America has made. We must do what is hard, what is necessary and what is right. We must hold our families and communities close with a firm grip, but also extend an open hand to those who reject us. We must take a stand but also find a way to understand.
America's destiny has never been at the mercy of one person. It's always been about all of us, placing our mortal hands on the arc of history and bending it slowly, sometimes too slowly, toward justice once again.So, even in our darkest hours as a nation, and there have been many recently, I still believe that there's nothing wrong with America that cannot be cured with what is right with America.
Don't let anyone tell you our differences are too vast to bridge, or that your individual struggles are too hard to overcome. Chase the American dream, have faith in the alchemy of America, turn your pain into purpose and begin writing your own ultimate comeback story.
Ammar Campa-Najjar works for the U.S. government in Washington, D.C.