The very first artifact the Smithsonian's new National Museum of African American History and Culture acquired for its collections was from Ecuador. In 2005, when the museum was still more than a decade away from opening to the public, Juan García Salazar walked into the director's office carrying his grandmother's boat seat.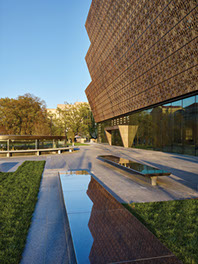 Deborah Azareno sat on this boat seat as she canoed the rivers of Ecuador's Esmeralda province as well as at home when she told stories to her grandson. Carved into the seat is an image of Anansi the Spider, a trickster character from African and African American diaspora folktales. The boat seat is as an indicator that the museum not only tells African American history, but Afro-Latino history as well.
Throughout the museum and its collections is evidence of the Afro-Latino presence. Some objects, like identification buttons worn by slaves in Honduras and Guyana, underscore the dark history of slavery. Others, such as scorecards from a baseball game between the Paterson (N.J.) City Club and the Cuban Stars highlight the role sports have played both as a means of resistance and a vehicle for political and economic advancement. Memorabilia from World Cup matches and the Pan American Games underscore that point.
Exhibits on the struggle for social justice and equality show how the black civil rights movement, a major focus of the museum, inspired other marginalized groups to seek their rights, evidenced by the Chicano power poster on display and, in the collection, a lapel button urging "Solidarity with the People of Guatemala." A mural from Resurrection City, part of the 1968 Poor People's Campaign organized by the Dr. Martin Luther King, features images of Mexican revolutionaries Emiliano Zapata and Pancho Villa as well as Joaquín Murrieta, often called the Mexican Robin Hood.
Other exhibits detail the burgeoning Afro-Latino population in the United State, arriving from Puerto Rico, Panama and Central America. Newcomers from the Dominican Republic alone, the museum documents, increased by almost 700 percent between 1980 and 2009.
The museum's cultural collection includes Los Angeles fashion photographer Tony Gleaton's images of Afro-Mexican communities near Vera Cruz as well as sculptures by Elizabeth Catlett, an African American artist who traveled to Mexico City where she would work with the renowned Taller de Gráfica Popular for 20 years and become the head of the sculpture department for the Escuela Nacional de Artes Plásticas.
An arguably unintended consequence of the opening of National Museum of African American History and Culture has been a renewed effort to create a National Museum of the American Latino. California Congressman Xavier Becerra noted, "So many [of the African American museum's supporters] have come to me and said, 'You're next.' It pumps you up."
Becerra has been leading legislative efforts to authorize a Latino museum since 2003, coincidentally the same year Congress authorized the African American museum. Subsequently, a Smithsonian commission recommended federal legislation to do so. He has pointed out that "there is no better way to learn what it means to be an American than to spend time on the Mall and in the dozen or so Smithsonian museums. But if you do, you'll walk away without having an understanding of what it means to be an American of Latino descent."
His third attempt to get congressional authorization for a Latino museum was introduced just weeks before the African American museum opened and is supported by a bipartisan group including Florida Congresswoman Iliana Ros-Lehtinen and Senators Robert Menendez of New Jersey and John Cornyn of Texas.
"You never give up if you believe in your cause, when you're speaking on behalf of 57 million Latino people and all Americans," Becerra said. "It is so important to see yourself reflected in the jewels—the artifacts and treasures on the Mall—that America uses to display her beauty."
The museum is nonetheless a long way off: The proposed legislation doesn't include any funding, and anyone envisioning it can't help but remember that the African American museum now drawing crowds on the National Mall was first proposed a century ago.
John Coppola