Latinos and the Great Outdoors
Picture this, a Latina from south Texas, camping, hiking, facing fears on a massive 270 million-year-old canyon.
Now that we have a semi-visual, here is the full picture and some background. A few years ago I went skydiving, a
gutsy move with a goal of conquering a commonly shared fear of heights. With that under my belt, I gained the confidence to accept the challenge of hiking a notoriously strenuous trail in Utah's Zion National Park called Angels Landing. This trail was allegedly named by an explorer from the early 1900's who noted that, "only an angel could land on" the steep, perilous and narrow trail. But if you are not an angel and want to ascend the Angels Landing as a mere mortal, be prepared to hike up 1,488 ft. in elevation, over the length of 5 miles round trip to reach its breathtaking views. So I gave it a go, taking it one step at a time, excited by the promise of such great heights.
On I went, but when I encountered the actual spine of the trail and the danger signs posted by National Parks Service it gave me pause. I'm from Brownsville, Texas, a city that is a mere 33 ft. above sea level and not particularly known for its uphill hiking trails. Naturally, I considered turning around and calling it a day before reaching Angels Landing at a point on the trail called Scouts Lookout, otherwise known as the "chicken out point." I'm still unsure why I decided to keep going that day, perhaps I was divinely inspired, but I'm certain, the inherited inner strength that is drawn from the many struggles and triumphs of our generations' past as Latinos played a big role in pushing me forward. I took a deep breath, scanned the peak and examined the deliberate and calculating steps of the brave souls hiking before me, and I went on up.
Trepidly securing my footing at each step for one hour, I kept going higher and the trail got steeper and a lot narrower with steep exposure to long drop-offs on both the left and right side. My heart was pumping, nervousness begun to set in. I then thought of Latino Outdoors, the national non-profit organization I volunteer with. I would not be a great representative of Latino Outdoors if I were to quit before reaching the glorious peak of Angels Landing. I channeled the strength of my Latino Outdoors colleagues who had once hiked Angels Landing and kept going. The final 3 steps to the top were the steepest and hardest steps of them all. One, breathe, two, breathe, three, breathe…I reached the peak!
I was overcome by a sense of accomplishment as a representative of Latino Outdoors. If I could hike this uphill trail, I could also help inspire our community to step out of their ordinary day-to-day and look to the outdoors for a rush, a family bonding experience, an escape and a reconnection with nature.
Growing up along the south Texas coast, I have incredible memories of visiting South Padre Island for some fun in the sun, but I do not recall ever visiting a state or national park with my family. For one reason or another, being out in the wilderness was not appealing to my family, thus when deciding what to do on a nice summer day we always headed to the beach.
I definitely understand that navigating and exploring the outdoors can be daunting and scary for many folks, but there is thankfully a plethora of information available to demystify the challenges and showcase benefits of visiting our countless natural landmarks. Reading materials and information can be found at your local park and online, and of course you can always contact our Latino Outdoors representatives across the nation.
I invite you to get the family together, find a park in your area, and get outdoors. Get to know your parks and go from there. Most park adventures are more affordable than say, visiting a theme park and yes less crowded. Everyone wins! And remember, this land is your land, this land is my land. It's a sacred bond that unifies us more than we realize – so do not be afraid to explore!
I hear from countless families that skip out on visiting local parks due to unfamiliar settings, and language barriers. This and other issues are being addressed as our community and others people of multicultural backgrounds seek a more inclusive park experience. Our national parks are out there waiting for us to unravel their mysteries and adventures.
I can now honestly say I've been to Zion…National Park that is. With its breathtaking deep canyon views, twists and turns of the uphill hikes and varied ecosystem, I will take that memory and share with our communities.
Nydia Gutierrez, Latino Outdoors, D.C. Regional Coordinator, is a Texas native residing in Washington, D.C. To contact Nydia please email, Nydia@LatinoOutdoors.org.
When Ken Burns excluded Latino veterans in his PBS World War II documentary, The War, Latinos were outraged. Latinos served proudly in WWII, but they weren't treated as heroes upon their return. The neglect was so egregious that Dr. Hector P. Garcia formed the American G.I. Forum (AGIF) in 1948 to help advocate for Latino veterans and make sure they received the benefits they had earned. Some say that this was the moment that the Latino civil rights movement was born.
"Dr. Hector P Garcia started the American G.I. Forum because Latino veterans were not getting the right treatment at the Veterans Administration," says Gil Rodriguez, chief executive officer of the Austin Chapter. "Today we've gone full circle. Now we're fighting for the rights of all veterans."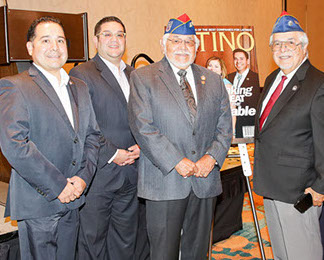 A Texas native, Rodriguez enlisted in the Navy in 1956, right after the end of the Korean War. He was deployed on ships in the Western Pacific Ocean and the Far East. A graphic artist, he used the GI Bill to return to college, but ultimately, his training and security clearance with the Navy proved an ideal match for the growing high tech industry. There were few graphic artists who could do conceptual work in a top-secret capacity, he asserts.
"Before I left for the Navy, the AGIF had just started in Austin," Rodriguez remembers. "I heard about it on a Spanish language radio station. When I returned, after the Korean War had ended, there were no benefits for veterans."
He became a member in 1969 and then became an officer in the 70s. State chairman for California in the 90s, he moved back to Texas where he became state commander and then chief executive officer for the last ten years.
In the 68 years since the organization began in Corpus Christi, TX, it has grown to include 41 chapters nationwide, becoming a National Veterans Outreach Program (NVOP) in 1972, serving more than 400,000 veterans since then. AGIF programs focus on education, employment, human rights, and education.
"When these kids come back, a lot of them left as very young kids," asserts Rodriguez. "They need to pushed to get an education and not necessarily a college degree. Some of these kids have had high tech jobs and should be able to come home and get the same type of job as a civilian."
While many issues have emerged regarding the VA, Rodriguez says the most pressing need is customer service. "Being able to be treated like you're somebody at the VA, especially young people serving who have been in combat and at a greater risk of suffering from post traumatic shock syndrome (PTSD). We need people at the VA who are caring people. When they're deployed there's no waiting time, if they need medical assistance, it should be given the same priority."
The Austin chapter plans to launch a game-changing project directed at the issue of homelessness among Latino veterans called Heroes Lodge. It will work like a hotel, veterans can make reservations to stay there and receive additional services to address health, employment, and education needs.
"Once we get a roof over their heads, it's amazing how they flourish," says Phillip Gutierrez, central region director and spokesman for Heroes Lodge. "We have a warm hands approach to our veterans, we deal with them one-on-one and make sure their get the help they need. We never let them go and not one has committed suicide."
According to the VA, veterans make up 23 percent of the homeless population. Many more are struggling with excessive rent burdens and are at increased risk of homelessness The group hopes to acquire land in Austin. With a commitment from a developer to build the facility, they launched an online fundraising campaign at www.heroeslodge.org that hopes to raise $4 million. Once open, Heroes Lodge will also make an estimated 68 jobs that pay a minimum of $15 per hour available to veterans.
The Austin chapter of the AGIF is also working on a legislative agenda that includes affordable housing tax credits that are veteran specific. "It's important for veterans to be around other veterans," says Gutierres. "They need to be in facilities that do not include the general public, this is key to keeping them alive."
For more information about the AGIF, go to agiftx.com.
Valerie Menard