Cruising on the Costa del Sol
Cruising along Spain's Costa del Sol in the all-new 2017 Volvo S90 premium four-door coupé wasn't exactly on my bucket list—but visiting Spain was, and driving the S90 was an added bonus.
According to Anders Robertson, Volvo 90 Series product manager, 150,000 premium sedan leases will mature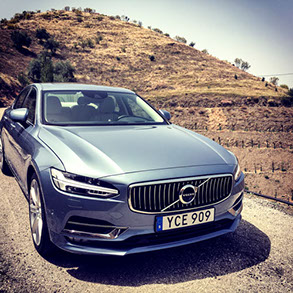 this year. Volvo hopes the well-timed launch of the S90, plus its styling, technology, and pricing, will encourage lessees to cross-shop and ultimately choose the S90.
Volvo begins by giving its flagship sedan curb appeal with distinctive design cues, specifically, all new tail lights and the T-shaped Thor's Hammer headlamp design that first premiered on the 2016 XC90 sport utility vehicle.
Competing against brands like Audi, BMW, and Lexus, Volvo offers what no other manufacturer can, a Scandinavian interior that combines luxury with function. For starters, the tablet-sized nine-inch touchscreen that interfaces with the Sensus infotainment and navigation systems, first introduced on the XC90, reappears on the S90. It's more than just handsome to look at, it's one of the easiest systems to operate as it functions similarly to a conventional tablet by sliding your finger to the left, right, up, and down. A cleaning cloth to remove fingerprints is included.
Standard leather seating combined with a power sunroof and unique air vents take the S90 interior up a notch. Instead of thin wood veneers that don't appear convincingly real on some vehicles, the S90 T6 Inscription that we drove on the launch included chunky Walnut wood accents with a matt finish. I predict that this design cue will get copied, like so many of Volvo's safety innovations. In this segment, roominess has its advantages, particularly in the back. Rear legroom on the S90 comes to 35.9 inches.
Another XC90 feature that returns on the new S90 T6 is the 2.0-liter four-cylinder turbo and supercharged powertrain, for which Volvo has received numerous accolades. The power (316 horses and 295 lb.–ft. of torque) and responsive throttle belie the engine's size, and it doesn't sound like a four-cylinder either.
Matched to an eight-speed automatic transmission, the S90 T6 should earn an EPA estimated fuel economy of 22 miles per gallon (mpg) in the city and 31 mpg on the highway. On the test-drive en españa, I averaged 22.6 mpg. A 2.0-liter turbocharged four-cylinder will power the T5 Momentum entry-level model.
No discussion of the S90 would be complete without considering safety. Volvo has committed to zero fatalities or serious injuries in one of its vehicles by 2020. To do this requires setting new benchmarks in safety technology. With the S90, Volvo has focused on avoiding large animal collisions. According to Jim Nichols, Volvo product and technology manager, 1.23 million deer strikes occurred last year in the United States. alone, resulting in 200 deaths. Volvo will include its latest technology, the Large Animal Detection system that uses radar to spot deer, moose, etc., and engage automatic braking.
The S90 equip all S90s with an improved version of Pilot Assist that allows the vehicle to accelerate, decelerate, and come to a complete stop to maintain a safe distance from the car in front, up to speeds of 80 miles per hour (mph). This makes it the first car in the U.S. with standard semi-autonomous technology.
The S90 means to compete, con ganas, in the premium sedan segment. Its design, technology, and value give it a definite advantage. Pricing for the 2017 Volvo S90 T5 Momentum and T6 Inscription starts at $47,945 and $57,245, respectively. A wagon version, the V90, will be available in 2017.
Valerie Menard
Driving in Style and Comfort
The weather in British Columbia cooperated fully for my test-drive of the 2017 Genesis G90 by Hyundai. The opportunity to drive in cool Canada in August, from Vancouver to the Sparkling Hill Resort in Vernon, British Columbia was a welcome break from the summer heat below the Canadian border. This spectacular drive took us under perfect blue skies through rolling hills and winding mountain roads to this luxury resort located just above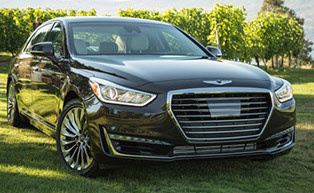 the spectacular Okanagan Lake and with expansive views of the Monashee Mountains. To break up the drive, we made to stop and refresh at the beautiful Mission Hills Winery as we got acquainted with all the impressive traits of the G90.
According to Erwin Raphael, General Manager for Genesis, "luxury as in the Genesis G90 makes every minute and every mile matter for our customers, we have anticipated where luxury is going and we believe the time is now for the G90."
Genesis represents a bold step forward for Hyundai, continuing to build upon its successful strategy of marketing its premium models under the Hyundai brand umbrella, rather than a costly, separate luxury brand. It expresses a very modern design through distinctive exterior styling with a sleek, upscale appearance. The design cues simple and harmonious design with just enough refined elements to keep it interesting. Design surfaces convey a kinetic elegance, and the elegant proportions demonstrate a long dash-to-axle length, longer wheelbase and shorter overhangs than its predecessor. These proportions clearly convey the performance rear-drive configuration beneath the sheet metal. The feel was solid and dependable, one of my favorite features is the head-up display just above the dashboard in front of the driver, this crystal clear display warns when vehicles on either side are in the G90's blind spots.
The cabin layout of Genesis has been designed to benefit all occupants with a spacious, comfortable ride. The simplification of the switchgear and instrument panel ensures an intuitive layout and open feel. This user-centric design connects the various interior parts easily and effectively, particularly the center stack with the console, upper-instrument panel and B-pillar with the headliner. This new Genesis displays ultra-precise fit and finish, with ergonomic seat design and a generous, natural feel. Particular design attention has been paid to the storage of practical items such as mobile electronics of all shapes and sizes, along with the flexibility of the cup holders.
The 2017 Genesis G90 offers two engine choices. The 3.3-liter twin-turbocharged V6 rated at 365 horsepower and 376 pound-feet of torque is standard equipment, and a 5.0-liter V8 with 420 hp and 383 lb-ft of torque is optional. Both of these engines pair with the standard eight-speed automatic. The 2017 Genesis G90 offers rear-wheel drive standard, but all-wheel drive is optional with either engine. The rear-biased all-wheel-drive system can send up to 40 percent of the power to the front wheels in low traction situations, and up to 90 percent to the rear wheels in the Sport mode.
I suppose there would be an even cooler ways to spend the dog days of August, but the pleasure of driving in such comfort and style through this lovely part of British Columbia is hard to beat.
Rafael Romero