When he wanted Mexican food, President Obama popped in for a bite at Cosme in New York's trendy Flatiron District.
So I spent weeks in anticipation of the chance to interview its owner, culinary superstar Enrique Olvera, and his chingona head chef Daniela Soto-Innes. As a daughter of Mexican immigrants, I was steeped in their traditions (at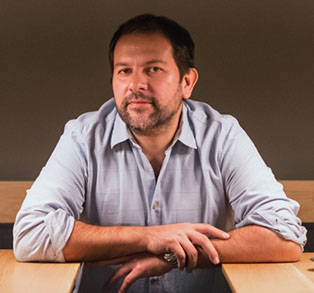 times nudged by the infamous chancla), from the dining room table to my Virgen de Guadalupe medallion. Taquitos de papa, enchiladas, queso fresco, and frijoles were recurring staples on my dinner plate. Fine dining was not a concept I correlated with Mexican food. But when I learned about this magical chef, whose hands turned the simple foods I grew up on into tasty elegance, I looked forward to meeting him.
I walked into Cosme the same day the restaurant was celebrating its two-year anniversary. The wait for Enrique was pleasant as the busboys playfully marched around setting up the tables, and the music in the background had many of them singing while they worked. When we sat down to chat, I was struck by his calm welcoming demeanor, not that of a man behind one of the top-ranked, trendiest restaurants in the city. Earlier that week, he had flown in from Mexico City, where he splits his time, and was delivering fresh pan dulce to his staff for the Dia De Los Muertos altar they were building.
Growing up in Mexico, he began cooking for his friends and their parents, but that hobby soon turned into a passion that he enjoyed more than anything else: "I didn't have recipes or anything. It was just in me." At 19, he decided to pursue his dreams at the Culinary Institute of America in New York, where he received the classical training to return to Mexico City and open his first restaurant, Pujol, now ranked the 17th best restaurant in the world. Later, he returned to New York and opened Cosme. The irony of his success is that Olvera never imagined he would grow up to be a chef: "It wasn't a sexy job, nothing appealing about it. Most people aspire to be doctors or engineers."
At Cosme, the food is not "Mexican inspired" like some of his competitors in New York. It comes from his roots, and there are three rules he has lived by. The first one is "happy ingredients, flavors that are vibrant and fresh, ingredients that will make you happy." His holy trinity of Mexican food are "chile, cebolla, y limón. If you add that to anything, it tastes good." Secondly, "Mexican hospitality and service that makes you feel you are in family ambience, like a neighborhood joint. " And finally,"Music is key, it sets the tone. When I was a child, my grandparents and family always played music."
Olvera also has a thing about corn: "We see corn like most people see wine. As cheesy as it sounds: Sin Maíz No Hay País." At Cosme, Olvera has dedicated tortilleras who are making over 2,000 tortillas a day from masa made by nixtamalization, an old Mexican tradition.
But aside from top-quality tortillas, duck carnitas and red mole that are all good enough for picky President Obama, Enrique has another secret ingredient: Daniela Soto-Innes, chef de cuisine at Cosme, and a recent recipient of the Rising Star Chef of the Year award from the James Beard Foundation.
Some little girls grow up playing with Barbie dolls. But at age 4, Daniela found her toys in the kitchen, where she began cooking classes at her mom's friend's Montessori school. "I was always with my mom, who always wanted to be a chef. My grandmother owned a bakery, so I was always around food," she recalls.
Her whole career has been a whirlwind of success, beginning with her professional career at 15 at Marriot hotels, and then graduating from Le Cordon Bleu College of Culinary arts at the age of 19. She later moved on to work at another restaurant, Brennan's of Houston, which allowed her to cook for more than 400 people a night – a kitchen boot camp that taught her all the stations in the kitchen. Like Olvera, she followed her passion as she moved around, learning about spices from an Indian chef, making cheese in Switzerland, and eventually returning to Houston to work for one of her biggest mentors and former bosses, Chris Shepherd, owner and executive chef of Underbelly, when she was just 20 years old.
Daniela quickly learned everything about animal butchery and the value of creativity at Underbelly, where the staff had only 30 minutes to create a dish for the daily-changing menu. Yet, something was still missing, and Daniela realized she missed cooking traditional Mexican food. She had never worked in a Mexican kitchen, and as grateful as she was for the training she had received, she yearned for more. It was then that her mother encouraged her to write a letter to Olvera, who invited her to come to Mexico City to work at Pujol. Eventually, he offered her the opportunity to move to New York and embark on the journey of being his head chef at Cosme.
When I met Daniela, I could easily understand why Olvera didn't hesitate to bring her on his team. Her energetic personality was contagious, and after a few minutes we already had nicknames for each other and compared some of our favorite local restaurants. She asked me if I wanted to meet her family, and of course I accepted. We walked through a dark curtain and downstairs into a room of laughter, reggaeton blasting in the background, and a strong smell of corn– Cosme's kitchen. She quickly offered me a tortilla, which I graciously accepted, and she pulled one right off the comal, freshly made from one of the tortilleras, whom she calls "the hermosas."
She took me on a tour of the kitchen and introduced me to each and every one of her kitchen staff, and had a story for each one of past experiences from working together. There was a playful spirit that resonated throughout the whole kitchen and floated upstairs to the dining room. It was obvious that Daniela had earned the respect of her staff, which seemed to see her as more of a sister, or a comadre, than a tyrannical head chef. "We are all one team in the kitchen. We can all have something to share and learn from one another," she said.
At 26, Daniela has already lived one of life's hardest lessons – managing people. "It was really hard at the beginning. I didn't know how to delegate, and took on more myself, but a kitchen can't run that way," she said. 0
And she explained one of the reasons why she's here today: "Don't be afraid of 'no,' of reaching out to someone to follow your dreams. Fear and failure shouldn't hold you back."
I left Cosme that day feeling that I was part of their family, and with a full belly. The short rib tacos were insanely delicious, perfectly seasoned with Olvera's holy trinity of ingredients, and perfectly tender meat to complement the homemade tortillas.
Aside from Cosme and Pujol, Olvera has five other restaurants in Mexico, three cookbooks already published, and has made chef appearances in over 20 countries. What could possibly be next ?
"Making the best corn tortillas," he said.
Soraya Flores