The first U.S. Latino to run a major film and television studio, he produces hit TV shows with multi-ethnic casts, and films that consistently break box-office records. He is Ozzie Areu and in 2008 he was named president of the Tyler Perry Studios by African-American media mogul Tyler Perry, making Areu one of the most powerful Latino executives in Hollywood.
Upon meeting Areu, you are struck by his charm and easygoing demeanor. You wonder if he might have been an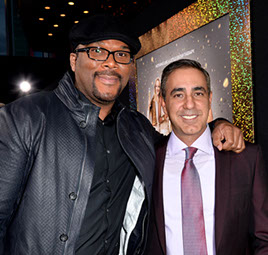 actor at one time, since he's got the looks. But actually Areu originally wanted to be in law enforcement. When that did not pan out, he got a job as a security guard at Warner Bros. studios. It was a starting point, not where he planned to stay.
Soon he was working for Bright Kauffman Crane Productions, the company responsible for NBC's Veronica's Closet and Jessie. He also worked on the set of, arguably the most successful NBC sitcom, the Emmy-winning Friends. He slowly worked himself up the ranks and worked closely with the likes of Brad Pitt, Jennifer Aniston and Ellen DeGeneres. Ultimately, he became Tyler Perry's right hand man -- his executive assistant.
In 2006, Areu finally made his move to Atlanta where Tyler Perry Studios are located. He began his diligent ascent to producer, and in 2008 he received his first of many credits, as a supervising producer on the film Meet the Browns. All told, Areu went on to produce over 700 episodes of some of the most successful shows on television, including If Loving You is Wrong, The Haves and The Have Nots, Love Thy Neighbor, For Better or Worse, and Meet The Browns.
On the film end, Areu has produced over ten films including the recent blockbuster Boo! A Medea Hollywood which was number one at the box office on opening weekend, beating out Tom Cruise's Jack Reacher: Never Go Back, and the following weekend beating out Tom Hanks' Inferno. In three short weeks the movie has grossed $65 million dollars, over three times more than what it cost to produce. His other producing credits include For Colored Girls, Madea's Big Happy Family, Good Deeds, Madea's Witness Protection, Temptation: Confessions of a Marriage Counselor, Peeples, Single Moms Club, A Madea Christmas and his first animation Madea's Tough Love.
In his position as president of the studio, Areu promotes Perry's creative vision that his studios are "A Place Where Even Dreams Believe." Together they produce films which focus on inspiring diverse communities who overcome everyday adversity. This family friendly entertainment has hit a bullseye with their audience, which is increasingly expanding beyond its original African-American base. Nowadays every film and TV show produced at Tyler Perry Studios credits Areu as executive producer.
Areu oversees all aspects of the studio, including business management, operations, feature films, television shows, stage play productions as well as new business projects. Since arriving at the Tyler Perry Studios, the casting of Latinos in their films and TV shows has been steady. It began in earnest in 2008, with the romantic comedy Meet the Browns, which starred Angela Basset and a fairly unknown Sofia Vergara. Now you see the work of Latino talent in almost all the productions, both in front of and behind the camera. These actors have included Eddie Cibiran, Zulay Henao, Eva Tamargo, Octavio Paz, Christian Ochoa, and Noah Urrea, who is being lauded as the next Justin Bieber. For some of these actors it has been their first "series regular" role.
In the spring of 2016, Areu was recognized with the Latinovator Award by Hispanicize. Reflecting on his rise from working as a studio security guard to running Perry's studio, Areu said at the time, "As someone who was able to climb the Hollywood ladder and meet my goal of becoming a successful producer. I am excited to share my story and, hopefully, motivate many others to pursue their dreams."
A Cuban American, Areu truly knows the power of living by example. He understands there are Latinos looking to advance their careers in Hollywood, and living proof that it can be done will serve as motivation. Areu's story demonstrates that if you aim high and work hard, you can become the president of a studio, and produce films and television programs that reflect your diverse world.
Bel Hernandez Castillo