Desierto is not your typical border film.  It opens with a breathtaking shot of a beautiful desert sunrise, the artistry of Damian Garcia, the film's director of photography. It quickly gets ugly from there.
From the minds of director/writer Jonás Cuarón, his writing partner Mateo Garcia, and producers Jonás and his father, Academy Award winning Alfonso Cuaron, comes a film which on the surface is just another tale of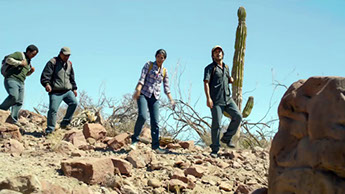 immigrants coming to America in search of a "better life." But it becomes a harrowing and primal fight for survival when a deranged, rifle-toting vigilante chases a group of unarmed men and women through the treacherous U.S./Mexican border.
A lone truck comes barreling into the scene with its human cargo, on their way to "El Norte," the promised land, the USA.  We quickly meet Moises (Gael Garcia Bernal) on his way to be reunited with his son, carrying the teddy bear which he promised to bring back to him. We meet Adela (Alondra Hidalgo), entrusted to a lecherous male companion whom her parents paid to help her cross the border.  And we meet the overweight Afro-Latino whose weight prevents him from keeping up with the group, in this case proving beneficial for himself and the other three that lagged behind to help him when he can't go on. The others are just a blur of nameless faces.  No name. No back story.  No one cares.
At about the time they embark on their journey under the scorching sun, Sam (Jeffery Dean Morgan), is starting his day as a self-appointed defender of the border, scouring the desert for undesirables, mainly "illegal immigrants." Sam is an ex-military sniper turned vigilante. Atop a bluff he spies the first part of the group and within a matter of minutes he has wiped out each and every one of them. His work is done, until Tracker his dog and lone companion, alerts him to the smaller group.  As they hurriedly scurry off the top of the mountain, Sam catches a glimpse of them, he soon he is hot on their trail.  For the next 80 minutes he hunts them down until there are only two.
Mexican-born Jonás Cuaron came to the U.S. in his early teens.  Living in the States, he began to hear the increasing rhetoric coming from some on the conservative right, raging against Mexican immigrants, blaming them for all that is wrong with our country.  However, it wasn't until eight years ago while traveling through Arizona that Jonás confronted the full force of the hatred and racist laws being levied against Mexicans and immigrants. He decided then the kind of movie he wanted to make.
Jonás felt that to make the often told immigrant story unique. His idea was to make a genre driven film, a horror film, all the while creating an audience experience. And so he and Garcia began the process of writing the script. One of the first persons Jonás showed it to was his Academy Award winning father Alfonso Cuaron.  His dad liked the script so much he told Jonas he would like to apply the same concept to one of his projects, which turned out to be Gravity.
Desierto was put on hold, but the success of Gravity put Jonás on Hollywood's radar, and he now enlisted his father and uncle Carlos Cuaron (Y tu mama tambien) both of whom became executive producers.  For the lead, they tapped actor Garcia Bernal, one of Mexico's most highly respected actors.
Utilizing the elements of horror, Jonás incorporated the hot-button political issues and draconian sentiment surrounding the border.  The character of the vigilante is used effectively to amplify the fears and anger of the persons on the right side of the immigration issue. While Moises, represents the faceless immigrants and their will to survive. As tensions build to the highest level and the chase comes to a climatic end, Desierto ends as calmly as it begins, leaving the audience with a dilemma:  Would you have done what Moises did?
It took almost eight years to make Desierto, from concept to theatrical release, but the subject matter is even more relevant now than it was back then, with Donald Trump's anti-immigration rhetoric. Desierto was released on October 13th, just three weeks shy of the election. It gives you a sense that even in the most powerless of moments, fighting for what is a human right of survival is worth the fight.
Bel Hernandez Castillo