Never underestimate the power of the right idea arriving at the right time and taking root in the right place.
In the spring of 2013, I traveled to Japan to have a conversation with Toyota Motor Corporation President Akio Toyoda about the benefits of consolidating our far flung North American operations in a centralized location. Just four years later, that dream has become a reality. I and nearly 4,000 Toyota team members will soon begin moving into our all-new corporate home in Plano, Texas.
Though it's not in our nature to toot our own horn, this truly is an amazing achievement. The 2.1 million square feet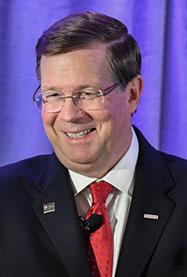 of collaborative space sited on a 100-acre parcel of land is comprised of enough concrete to span the length of 475 AT&T Stadiums, enough reinforcing steel to form 1,700 Dallas city buses and enough glass to replace nearly 50,000 Toyota Tacoma windshields.
Simply put, it's big. Texas big. But the impact of what we'll accomplish there will be much bigger. Exponentially so.
I say this, in part, because—for the first time since Toyota began selling cars in this country—our manufacturing, marketing, sales, communications, logistics, IT and support professionals will be in close proximity to one another—both physically and in mindset. That's going to help us make better and faster decisions as we push to stay ahead of the curve rather than chase it from behind.
But even more so, I say this because of where we decided to plant our flag and the vibrant mix of people who are choosing to rally around it. Some in the media claim our move to Plano has created a "Toyota Effect." We'd love to take credit for that, but it's just not true. At most, I'd say we're contributing to the existing "North Dallas Effect." It really is a great place to do business. And, as my wife and I have discovered firsthand over the past two years, it's also a great place to live. The two go hand in hand.
Perhaps that's why nearly 70 percent of our existing team members are in the process of relocating to Texas from California, Kentucky and New York. And perhaps that's why we've seen an incredible amount of interest from folks here in applying for the 1,000 jobs we'll need to fill. It's a potent dynamic, where a critical mass of experienced hands—people fully immersed in the Toyota Way culture—are reenergized by the fresh perspective and creative spark of the new hires.
I'm convinced this diversity—of background, ethnicity, gender, generation and expertise—will be a game changer for us. When the makeup of our workforce mirrors that of our customers, we're much more likely to build great vehicles that serve their needs and inspire their passions.
That's why, in particular, our relationship with the Latino community is so important to us. No. 1, it's growing in size: By 2050, the U.S. Census Bureau projects that one out of three Americans will be a Latino. No. 2, it's growing in prosperity: Nielsen says that from 2000-1015, the collective buying power of Latinos rose to $1.5 trillion—more than double the rate of increase among non-Latinos. And No. 3, it's growing in new-vehicle purchases: According to Automotive News, the Latino market surged by 14 percent between 2014 and 2015, nearly three times the rate of the industry as a whole.
Trust me, we at Toyota are paying close attention. It's no accident that we've been the best-selling brand among Latino new-car buyers for 12 consecutive years and that, in 2015, Lexus followed suit and became the No. 1 luxury brand. The quality of our vehicles has a lot to do with this. But, ultimately, our continued success depends on the depth and breadth of our relationship with this growing community.
Now, Texas and the Latino market are not one in the same thing. But I believe our track record in the Lone Star State speaks volumes. For example, did you know our ties to Texas date back to at least 1969 and the founding of Gulf States Toyota in Houston? Today it's one of America's most successful private companies and one of the world's largest private distributors of Toyota vehicles and parts.
Did you know that, in 2003, we broke ground on a 2,000-acre site near San Antonio and invested $2.4 billion to establish Toyota Motor Manufacturing, Texas? It can build more than 200,000 Tundra and Tacoma pickup trucks annually. It employs 1,850 people directly and many more through its suppliers. That includes Forma Automotive headed up by Rosa Santana, the first Latino woman to own a business serving as a direct Tier 1 supplier to Toyota.
So perhaps it shouldn't come as a surprise that we decided to put down roots in Plano. I'm convinced it's going to make us a more nimble and innovative company. And it's going to strengthen our ties to the Latino community in Texas and beyond.
This really was the right idea at the right time in the right place. I think you'll agree: Our future, like that of Latinos in America, is very bright.
Jim Lentz is CEO of Toyota Motor North America, president of Toyota Motor Engineering & Manufacturing, North America and senior managing officer of Toyota Motor Corporation.