For Adolfo Perez, being a success in life has always been the ultimate goal. Today, he fully credits his accomplishments to his mother and father— his role models— who emigrated from Cuba to Miami in 1962 and instilled the core values that Perez still carries with him.
Being the only Cuban family on the block had its challenges and obstacles, yet Perez learned about resilience and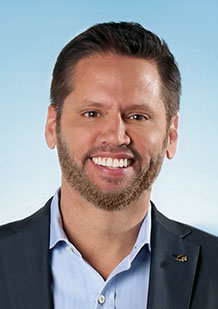 perseverance, developed a strong work ethic and discovered the true meaning of happiness and fulfillment, thanks to his parents, maternal grandparents and older sister.
"My parents impacted me in several ways and really made a big difference in my life," Perez said, reflecting on his early years in South Florida. "My father had a strong work ethic and never missed work. I'll never forget that."
By learning from his experiences during childhood and applying them to adulthood, Perez—who now serves as the vice president of trade sales and marketing for Carnival Cruise Line—has certainly attained success. Perez manages a team of 70 employees all across the globe and supports Carnival's international interests by heading up and maintaining relationships with trade partners.
Perez's own relationship with Carnival took root decades ago. Setting sail on cruise ships was not new to him, as he often traveled by sea with his family.
Furthermore, Perez actually began his career at Carnival when he was 16 years old. As a junior in high school, the young, energetic Perez got his start as a Carnival check-in agent at the pier on Saturdays and Sundays.
"I remember it as if it were yesterday because it was such a fun job, and I learned a lot about business and customer service," Perez said.
From there, Perez went on to become a Carnival embarkation supervisor. In this role he was responsible for ensuring speedy and smooth turn-around times for the ship by getting guests on and off the ship as efficiently as possible.
While Perez approached every opportunity with enthusiasm and dedication, he also learned the importance of having mentors both personally and professionally.
"My mentors took the time to guide me through my career," he said. "They made sure I understood the business, learned to come up with solutions and was buttoned-up, professional, and a good communicator on paper and in-person."
Carnival remains devoted to equipping its employees with tools for professional development and growth. Maximizing performance through this kind of support has always been of highest priority to the corporation. "My mentors were there for me and demanded the best from me," Perez said. "They did not allow me to falter and didn't take any excuses from me. It was tough, but I appreciated it."
Through these mentorship opportunities, Perez was able to discover and foster his communication and people skills, both in and out of the workplace. "Whether it's a sales pitch to a client or motivating an employee to be their best, or securing additional funding for something you believe in, communication is the key," Perez remarked. "How you present yourself and your ideas is crucial to success."
This pillar of employee success drives Carnival to continually implement growth opportunities and establish an entrepreneurial culture. Perez, who dreamed of his own success since he was a young boy, firmly believes this is a great place to work.
"I'm inspired by the passion our company has and its mission to make people's lives a little better," Perez said. "I'm inspired by the people who have helped me grow."
Perez is also inspired by his two sons, ages 23 and 18. As a man who held his parents in the highest esteem and credits his own success to the lessons learned from his dad, Perez is thrilled to keep this tradition alive with his children.
After 34 years at Carnival, Perez says he appreciates how the company has never failed to make him feel like a part of the family. "Carnival's owners, the Arisons, have been very good to me and have always treated me like a member of their family, rather than an employee." For this reason, Perez feels an utmost sense of loyalty and respect for his employers.
From an industry perspective, Carnival is a corporation that continues to evolve, perhaps as much as its own employees. The company now has 10 brands. "Each of our 10 major cruise brands really focus on what is important to their brand promise," Perez said.
No doubt that his career track as a valued Carnival family member has changed over the years. But rather than slow down, Perez continues to take advantage of business opportunities and build his experiences. In the last five years, his career milestones boast an impressive list of movement and growth.
Before moving to London in 2011 to oversee Carnival's UK-based sales and marketing efforts, Perez spent two decades running sales call centers and diving head-first into such operations. These 20 years of hands-on experience enabled him to start and lead this important initiative. "I grew so much professionally and personally during my time in the UK, and that experience continues to serve me well today," Perez said, reminiscing about his time overseas.
Two years later, Perez made his return to the U.S. and worked on Carnival's first-ever Hispanic marketing campaign. Not long after, Perez was promoted to his current position."I never knew how much I enjoyed sales and relationship management with our travel agent partners until I took this job," said Perez, who also recently received the opportunity of a lifetime for his family.
In the spring of 2016, Perez and his family embarked on Carnival Corporation's social impact brand, Fathom, and set sail to Cuba, marking the first U.S. cruise line to travel to the Northern Caribbean country in 50 years.
"It was the most amazing experience to share with my family," said Perez, whose family originally hails from Guanabacoa, a colonial township in eastern Havana, and Regla, which is one of the 15 municipalities or boroughs in the city of Havana.
What's next for Perez? When he's not pursuing his passion for black and white photography, he pays it forward by encouraging the next generation of career hopefuls to work hard, follow their dreams and never let a "label" hold them back from attaining success.
"My parents drilled that into my head, and I truly believe it is the reason for my success. I've been given so much, and now it's my turn to give back and mentor others," Perez said.