As the holiday season rolls around every year, many can't wait to plug into the sounds of Christmas interpreted by their favorite artists. Many Latino musicians have tackled this timeless genre, and the best recordings stand the test of time. One notable example: the collection of holiday favorites featured on Latin Jazz Christmas (Concord), a session starring Sheila E., Arturo Sandoval, Ed Calle, Poncho Sanchez and other notables that sounds as fresh today as it did when it was recorded 15 years ago.
In the same vein, but fresh off the vine, is Latin Jazz Christmas in Havana (Aguankó Music) by Aguankó, a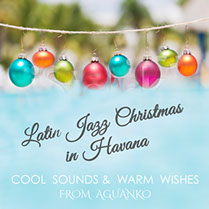 Michigan-based group fronted by percussionist and composer Alberto Nacif. A native of the Oaxaca region of Mexico who is today a practicing physician in Detroit, Nacif has expanded his knowledge of Latin music idioms through frequent visits to Cuba to study with world class musicians in Havana. A man of many talents, he crafted this 10-track session to showcase a variety of tropical rhythmic styles. He applies them to such seasonal hits as "Santa Baby," an album highlight, "Sleigh Ride," "White Christmas" and "It's Beginning to Look a Lot Like Christmas." Wisely, Nacif avoids overexposing himself with too many conga drum solos, relying instead on guiding the festive flow of cha-cha, mambo, bolero and guaguancó rhythms – among others – and letting his exceptional pianist, Rick Roe, and a four-man horn section take center stage. The arrangements are harmonically lush and the rhythms will get hips swaying. This is a recording you'll instantly fall in love with.
In the spirit of the season, our other picks would make ideal presents for the Latin music lovers on your gift-giving list, starting with Arte del Duo (Ediciones Pentagrama), the latest offering by vocalist and composer Mili Bermejo and her longtime collaborator (and husband) Dan Greenspan. And what a sumptuous aural feast it is. Born in Argentina, raised in Mexico, and a resident for many years of the Boston area, Bermejo has emerged as one of the world's premier champions of nueva canción-style balladry. A worthy successor to the mantle of such monumental artists as Mercedes Sosa and Violeta Parra, Bermejo's warm and animated readings, as on "Los que se Aman," with its overtly spiritual tone, and "Tres Veces Heroica," which takes its rhythmic and thematic cues from Veracruz, Mexico's cheerful huapango style, are commanding and invite introspection. She demonstrates the breadth of her vocal skills on "Las Orillas del Mar," injecting Middle Eastern-rooted inflections on this entrancing tune by Hafez Modirzadeh, a contemporary musician of Iranian descent. The paring of Bermejo's arresting vocals and Greenspan's equally compelling artistry on the double bass attains an uncommon level of pure virtuosity.
On Avenida Graham (ZOHO music), guitarist and composer Greg Diamond incorporates the diverse cultural signposts that reflect his upbringing in New York by a Colombian mother and an American father of eastern European Jewish descent. The session's title signals the young musician's intent for the album's stylistic orientation; Graham Avenue, also known as the Avenue of Puerto Rico, is an ideal metaphor to represent the rich, multicultural music landscape that Diamond and his group explore on this invigorating nine track set. "Rastros" begins restfully before gaining tropical storm strength. The guitarist crafts crystalline, fingerpicked arpeggios to frame saxophonist Seamus Blake's tenor sax musings, which grow in intensity as the piece evolves. "El Coronel," inspired by a character in Gabriel García Márquez's One Hundred Years of Solitude, is a complex, long-form composition by the leader that features a detour to a buoyant Cuban-style rhythm jam. For many, "Ultima Palabra" will be particularly attractive, with the gentle, sashaying cadence of Argentina's milonga setting the mood for the cerebral theme and Diamond's gorgeous solo.
Havana Moon (Steinway & Sons) is a revealing survey of classical works by such composers as Brazil's Heitor Villa-Lobos and two contemporary writers –  Cuba's Paquito D'Rivera and Uruguay native Miguel del Águila. Mostly performed by the duo of pianist Evelyn Ulex and clarinetist Mariam Adam, with occasional appearances by a violinist and bandoneonista, the performances marry the formality of chamber music to the vivacious rhythmic spirit of such Latin American idioms as Argentina's tango. Havana Moon has it all – a program of intriguing compositions that aren't overly familiar, inspired musicianship, and a window into the creative realm of some of the Western Hemisphere's most accomplished composers.
Mark Holston