Alex Garza's longtime dream was to own a construction company. But after sustaining several injuries, including a broken back and a dislocated shoulder, while serving in Iraq for the U.S. Army, Garza's plans changed.
Instead, the 27-year-old doctoral student in rehabilitation counseling at The University of Texas Rio Grande Valley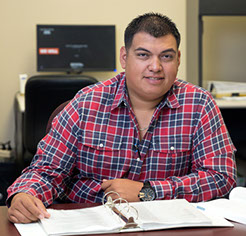 is working on a career to help fellow veterans rebuild their lives. Garza, who also earned his master's degree in rehabilitation counseling, said he had difficulty navigating the system in acquiring the services he needed after leaving the Army at 21 years old. He wants to make sure his fellow veterans receive the benefits they earned.
 "I can advocate for myself but not everybody can," Garza said.
 Garza, who is originally from Austin, said he and his family moved to the Rio Grande Valley when he was in high school. He enlisted in the Army when he was 17 and served in Iraq as a plumbing engineer and helped build outposts throughout Iraq. During his tour Garza sustained a broken back, injuries in both of his knees, and a dislocated shoulder.
 After he left the military, Garza enrolled in Park University in Austin, where he earned his bachelor's degree in social psychology. He was also receiving rigorous physical therapy five times a week. Garza said he tried running his own home repair business while he was in school, but soon learned that his body could no longer handle such strenuous work.
 "I'm still in the recovery process, that's why I quit," he said. "I should not have been doing that, (but) that was my dream and I was like, 'I'm going to do what I want.'"
 That's when he learned more about rehabilitation counseling. Before enrolling in UTRGV's (then UT Pan American's) Master of Science in Rehabilitation Counseling program, Garza shadowed a rehabilitation counselor who worked for the Disabled American Veterans in McAllen for a few weeks to see if he would enjoy that as a new career goal. "I fell in love with it so I started going to school for that," he said.
 Garza said he chose to study rehabilitation counseling at UTRGV because of the program's prestige — The U.S. News & World Report ranked the university's Master of Science in Rehabilitation Counseling 17th in the nation — and because of UTRGV's Military and Veterans Success Center. Having the center allows him to connect with fellow student veterans and build support, he said.
 "It's a camaraderie," Garza said. "We go out to eat together, if someone needs help on school stuff, we try to help each other out. We all go hunting together, we all go fishing together … we try to make our own family with each other."
 Garza said he hopes to work for the U.S. Department of Veterans Affairs as a rehabilitation counselor. His advice to fellow veterans: "Never quit."
Gail Fagan and Jennifer Bergholm