The Congressional Hispanic Leadership Institute (CHLI) hosted its first ever cross-country tour this past September. Under the tagline "Not Your Abuelita's Kitchen Table Talk," Red White Y Tú set out to educate, engage and empower Hispanic/Latino millennial voters. The ten day long tour was held in Los Angeles, CA; San Antonio TX, and Miami, FL as these cities have a high Hispanic/Latino Millennial population. By the end of the tour, Red White Y Tú had reached more than 210,000 people with its message on the importance of voting.
The tour started on Thursday, September 22 at the California State University, Los Angeles in the Student Union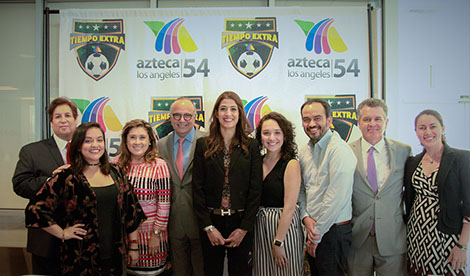 Theatre. Students filled the theatre to hear many distinguished professionals discuss the importance of voting. CHLI President and CEO, Mary Ann Gómez Orta, presented each event with welcome remarks.
"CHLI is constantly advancing the Hispanic community's diversity of thought and Red White Y Tú is a way to assist Hispanic/Latino Millennials in understanding just how important their vote is," said Gómez Orta. "They need to know we care about their passions and that their voice is significant to the future of this country."
President & CEO of Azteca America, Manuel Abud, spoke about how it's Azteca America's responsibility not only to entertain and inform, but also to provide their audience with elements so they can make the best decisions possible for their families.
"There is no better way to commemorate Hispanic Heritage Month than to engage Latino leaders and Millennials in an informative and empowering discussion about the importance of voting and exercising individual civic duties," said Abud. "The response to CHLI's Red White Y Tú forums in Los Angeles, San Antonio and Miami has been very positive and Azteca America is proud to have served as the founding partner."
CHLI Board Member and National Public Relations Director for Grupo Salinas & Executive Director for Fundación Azteca America, Nathalie Rayes, also shared her insights on the importance of civic engagement for Millennials and reinforced how critical their votes are in this year's presidential race. As a former staff member to Mayor James Hahn of Los Angeles, she saw first-hand the value of being civically engaged and she encouraged the audience of all ages to vote and ensure others in their families who could vote, do. Rayes is also a board member of Voto Latino, a national organization that was also a partner of Red White Y Tú in Los Angeles.
"Voting is one of our most important responsibilities. There is no election too big or too small, from City Council to the President of the United States, we need to participate in every election. Government affects our lives at every level, and it's critical that we have the right people making decisions for us," said Rayes.
Shortly after, Red White Y Tú held discussions which included Rayes, and other distinguished professionals who spoke about experiences at the national political conventions, their thoughts on how they can get more Latino Millennials involved in politics, the gap between the number of Latinos eligible to vote and the number projected to vote, and they informed the audience of resources they can access to get educated on voting in California. The discussions were moderated by Washington Bureau Chief for TV Azteca and Azteca America, Armando Guzman.
Once Red White Y Tú concluded in Los Angeles, CHLI continued the tour in the University of Texas at San Antonio in the Denham Ballroom on Monday, September 26.
"As the representative for a district with one of the highest Hispanic populations in the country, I believe it is important to educate Hispanics about the importance of voting," said CHLI Vice-Chairman, Congressman Henry Cuellar (TX-28). "And I thank CHLI for its efforts to engage and empower our community in South Texas and across the country."
Opening remarks were provided by Gómez Orta, comedian and Morning TV Host of KENS "Wheres Cleto," Cleto Rodriguez; and Director of News for Azteca America KVDF-CA, Jorge Mettey.
Notable individuals from UTSA Student Body and local activists spoke about their civic engagement efforts and shared their experiences and stories of what motivated them to pay attention to politics.
After San Antonio, CHLI made its way to its final stop – Miami. CHLI held its last Red White Y Tú event in Miami Dade College – Wolfson Campus and had exemplary professionals as well as local comedians and actresses stress the importance of voting to the crowd and covered issues and concerns that are important to the country.
CHLI would like to thank California State University, Los Angeles, University of Texas at San Antonio, and Miami Dade College – Wolfson Campus for hosting Red White Y Tú. CHLI would also like to thank our founding partner, Nathalie Rayes and Azteca US, a Grupo Salinas company. Special thanks to CHLI's national partners and sponsors: Beverly Gilyard and AARP; Isaac Reyes and Target; Howard Moon and AMGEN; Arturo Vargas and NALEO; Allen Gutierrez and The Latino Coalition; Liliam Lopez and South Florida Hispanic Chamber of Commerce; Elaine Coronado and Argus Events & Marketing; Maria Urbina and Voto Latino; Marilyn Emas; Denise M. Lopez; and everyone who attended the CHLI Red White Y Tú forums.