What next? That's the question in Washington, DC after the surprise victory of Donald Trump over Hillary Clinton, and Latinos are nervously asking what will happen when President Trump takes over on January 20th.
Shock and awe was the mood at a press conference held at the headquarters of the National Council of La Raza (NCLR), where some pushed back against data showing Trump won 29 percent of the Hispanic vote.
"We strongly dispute exit poll reports that suggest Trump support for the Latino community exceeded that of Mitt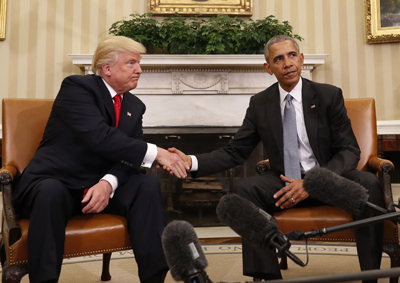 Romney in 2012," said Janet Murguía, president of the NCLR.
Instead, many pointed to the findings of the Latino Decisions polling firm, showing Trump with a record low 18 percent of Latinos. But all agreed that it wasn't enough to make a difference.
One issue on the minds of many is immigration. Throughout the campaign, candidate Trump threatened to deport milllions of undocumented Latinos, including young people who qualified under DACA. Will President Trump follow through?
"It's a very difficult situation. There's a lot of uncertainly as far as seeing what's going to happen. As a candidate he spoke of massive deportations, he spoke very badly of immigrants and other groups, and there is a lot of fear in our community," said Democratic advisor Melisa Díaz. "We have to see if this is the Trump from the campaign trail or a different one."
"The Republican Party has a lot of work to do with the Latino community. We hope they come to their senses, come to the table, and work with us to restore dignity and bring much needed healing to our community," said Latino Victory Fund interim director César Blanco.
The elephant in the room is the obvious conclusion that the GOP's lack of Latino outreach, for which it was harshly criticized up until Election Day, proved to be a winning strategy. So why should the GOP or President Trump, for that matter, change? This is of little comfort to Latinos whose lives may be drastically affected by the results of the election.
"We've had people call our office and ask us to please remove their asylum applications because they don't want their names out there because they're going to come for them and pick them up and deport them. There is a lot of fear out there," says Yesenia Contreras-Frazier, a paralegal in a Washington law firm that specializes in immigration law.
"The vast majority of Americans, Republican and Democrat, recognize that mass deportation, banning an entire religion and vilifying those who are seeking a better life would be horrible policies for all of us. If Trump were to implement even part of this approach, the cost to American workers and taxpayers would be extreme," said Ali Noorani, Executive Director of the National Immigration Forum. "His promises regarding immigration are unworkable and could harm our economy and communities. There is a smarter way to secure our nation's border. Our safety and security are top priorities, but the new administration and Congress must offer solutions that stay true to our American values, strengthen our economy and keep families together."
Two days after the election, the president-elect came to Washington, DC amid protests to meet with President Obama but also Speaker Paul Ryan, Senate Majority Leader Mitch McConnell, and other congressional leaders. On the agenda was border security and another of his campaign promises---a wall on the U.S.-Mexico border.
But Díaz doesn't think this will actually happen: "Obviously Mexico is not going to pay for it like he says they would. And naturally you need money for it and there simply is no money there. He says he wants to lower taxes, and if that happens there will be fewer funds to pay for this wall. Maybe he'll start it because it's campaign promise and he wants to be on the good side of the people who voted for him, but I don't see how feasible it would be to actually complete it."
Indeed, there is already some congressional pushback on the border wall, with a proposal floated among legislators that includes a much-more scaled back border fence – not a concrete structure as Trump wants -- and an increase in border patrol agents. McConnell has said that regardless of what kind of border structure there would be, border security would be "a top priority" for congressional leaders.
Republican strategist Danny Vargas did not support Trump but says the best strategy at this point is to focus on governing: "The campaign is done. Now it's time to govern. This isn't the time to wring our hands and say woe is me and who did this and who didn't do that. We need to focus on the challenges that we face and try to craft policies that will be better for all of us. It's not going to be easy but to the extent that they look beyond campaigns and look toward policy, that will be all the better for everyone."
Latino leaders are also eyeing one of the largest tasks of a new administration – who will fill the more than 6,000 presidential appointments. Among the 41 names floated by Trump's transition team for the Cabinet were no Latinos. This would set a dire precedent, though Trump set many during the campaign.
The Latino Victory Foundation, along with the Joint Center for Political and Economic Studies, sent a letter to the Trump transition team urging the president-elect to create a diverse administration. "Collectively we represent a consortium of 36 African American organizations and 40 Latino organizations from around the nation. One key goal we share is to increase racial diversity in federal appoints," says the letter. "Collectively these appointees manage over two million personnel, oversee budgets totally over $3.5 trillion, and help set the policy agenda for our nation."
Lost in the attention to the presidential race, however, were a number of firsts: the first Latina U.S. Senator, Catherine Cortez-Masto of Nevada; Rubén Kihuen, the first Latino in the lower chamber representing Nevada; the first Dominican-American member of Congress, Adriano Espaillat of New York, and Darren Soto, the first Puerto Rican to represent Florida in the House. California sends three new Latino House members: Nanette Barragán, Salud Carbajal, and Lou Correa.
But for now, Latinos are still stunned.
Patricia Guadalupe